Best Virtual Credit Cards In Canada 2023: Top 7 Picks & Reviews
All products recommended by Bizreport are selected by our editorial team, independent of our parent company. Some of our stories include affiliate links. If you buy something through one of these links, we may earn an affiliate commission.
KOHO Prepaid Mastercard
Editor's Choice
KOHO Premium Card
Best Paid Card
Wealthsimple Cash Card
Best Free Cash-back
A virtual credit card is a temporary or permanent credit card number that lets you shop for purchases online. Generally, virtual credit cards are different from the number physically printed on your credit card, and they can be generated before each purchase. Is a virtual credit card necessary? That depends on your shopping goals. Learn more about virtual credit cards, how they work, and the best virtual credit cards in Canada.
Best Virtual Credit Card Canada 2023
What Is A Virtual Credit Card?
A virtual credit card is a unique credit card number that lets you shop for purchases online without revealing your actual credit card number. Virtual credit cards are usually tied to your main credit card account. The virtual number is usually created every time you make a purchase, and you can set spending limits or expiration dates for each card. A significant advantage of using a virtual dollar card when shopping online or over the phone is security. This is because the short-term randomized credit card number keeps your personal data safe when making purchases online.
How Virtual Credit Card Work
Generally, virtual credit cards are usually linked to existing credit card accounts. Virtual credit card numbers are usually generated randomly to prevent thieves from stealing your bank account information online. Although these numbers appear as regular credit card numbers to merchants, they differ from those printed on your physical credit card.
After generating the virtual card number, cardholders can get instant approval and customize it to suit their personal preferences and spending habits. Here is a brief explanation of how virtual credit cards work and what you must do to use them:
To get your virtual card information, register with your preferred virtual credit card provider. Your card number, validity date, and CVV are the details required.
Preload money on your card.
Use the information the virtual credit card issuer provides when you check out to make your online transactions.
Submit the payment, then finish the transaction.
The money will automatically be taken out of the account connected to your virtual credit card.
For most virtual credit cards, you can use Apple Pay, Google Pay, or the real card you get in-store.
Read more: Best Credit Card In Canada 2023
How To Open A Virtual Credit Card In Canada
To get a virtual credit card in Canada, you can follow any of the following steps:
Apply for a credit card: You can apply for a credit card with any of the popular credit card issuers like BMO, Scotiabank, RBC, and TD, among others. After opening your credit account, go through your online account to check if they offer any virtual card that suits your needs and spending habits
Apply for a prepaid credit card: Prepaid credit cards are free to use and easily accessible. Also, you can get an approved prepaid credit card even if you don't have a good credit score. Some prepaid credit cards that you can apply for include KOHO, Wealthsimple, Mogocard, Stack, and BMO.
Apply for a debit card: Some bank draft cards, like the RBC virtual visa debit card, now offer a virtual card option that you can use to make purchases online.
Use a digital wallet: You can add your credit card to your digital wallet like Samsung Pay or Apple pay. This option is recommended if your credit card provider does not offer a free virtual credit card.
After applying for your virtual credit card, you can generate your virtual card through the following ways:
Through your online account: A lot of credit card companies allow you to create your free virtual card whenever you need it through your online account or the mobile app. By using this method, you can instantly create a virtual credit card that you can use instantly and delete when you have made the purchase. This will help you keep your payment and account information safe and secure.
Automatically generated virtual cards: After adding a card to your mobile wallet, some credit card companies allow virtual cards to be automatically generated for you. These can be generated once you have opened an account. The automatically generated virtual card ensures that your main account is protected from risks like data breaches and other potential compromises.
KOHO Prepaid Mastercard
Price protection insurance
No foreign transaction fees
Earn bonus rewards from particular merchant partners
KOHO Premium Card
Relatively low fee of $9 per month
No foreign transaction fees
Credit build option
Wealthsimple Cash Card
No annual fees
1% cashback on all purchases
No foreign transaction fee
MogoCard
Free protection from identity fraud
Instantly freeze your credit card when necessary
Free credit score monitoring
Wise Card
Transparent transfer fees
Send and receive money in over 50 countries
2 free international ATM withdrawals
RBC Virtual Visa Debit
Issued by a reputable financial institution
Safe and secure transactions
Great for RBC bank customers
STACK Prepaid Mastercard
Earn bonus rewards with STACK merchant partners
Zero liability protection
No fee prepaid credit card
Best Virtual Credit Cards In Canada January 2023
KOHO Prepaid Mastercard
Read KOHO Prepaid Mastercard Reviews
The KOHO Mastercard Prepaid Card is the best virtual card in Canada. This card's key selling point is cash back on most transactions, with certain retailers offering up to 5% cashback. Additionally, it provides a free virtual Mastercard that you may add to your digital wallet or use to make online purchases.
No annual fee
Real-time spending tracking
0.5% cash back on all purchases
Set up automatic roundups to grow your savings
Low cashback rate
No bonus points on any category
Relatively high 1.5% FX fees
The KOHO prepaid MasterCard is great for automatic roundups and has no annual fees. Also, No credit history or high credit score is necessary to apply for this card. With the Koho prepaid Mastercard, you can develop your credit, link it to your KOHO Savings account, and manage it through the KOHO mobile app without paying an annual fee. It also works with the majority of other KOHO services. The card gets approved instantly for everybody who applies for it.
KOHO Premium Card
In comparison to the standard KOHO card, the KOHO Premium Prepaid Mastercard is a step above.
No foreign exchange fees
Free professional financial coaching
Automatic roundups to grow your savings
2% cashback on some categories, 0.5% for others.
High annual fee
No welcome bonus
The KOHO premium card is great for no foreign fees and customizable cashback categories. The cash-back incentives offered by the KOHO Premium Reloadable Card are its main advantage. The three major purchasing areas that KOHO gives extra cash back on include groceries, food & drinks, and transportation. Anyone may apply for the KOHO Premium Reloadable Prepaid Mastercard, and it will be authorized in just a few minutes without needing a solid credit score or background. The majority of additional KOHO services, such as the KOHO mobile app, KOHO Credit Building, and KOHO Saving, are compatible with this card, which has an annual charge of $84 and is available.
Premium customers additionally receive the following perks in addition to those provided by the basic card:
2% immediate cashback is offered on purchases of food, transportation, and dining out.
The 2.5% FX fee is entirely eliminated.
Price-matching functionality ensures the lowest prices are paid for all purchases.
Free financial counseling is available.
One free ATM withdrawal abroad monthly
A premium Mastercard prepaid physical card
Wealthsimple Cash Card
The Wealthsimple cash card is the best free cashback card. It offers cashback on all purchases which you can use to support your TFSA, fund your connected spending (Cash) account, which allows you to transfer, spend, and receive money quickly using the Wealthsimple Cash app, or invest in stocks, ETFs, cryptocurrency, or stocks
Deposit as much as $1000 daily
Transform cashback rewards into stocks, ETFs, or cryptocurrency
Funds protected for up to $100,000 through CDIC
No physical location for customers
FX fees for transactions outside Canada
The Wealthsimple no-fee prepaid Visa card will feel perfectly at home in the hands of novice investors who are interested in learning more about accumulating wealth. It is excellent for users who want cashback and a card with no annual fees. However, Visa charges FX fees if you use the Wealthsimple cash card out of Canada. Hence, it is not an actual no FX fee credit card like some sources claim.
The Wealthsimple cash card offers the following perks:
1% cashback on all transactions
0% foreign transaction fee from Wealthsimple
No annual fees
MogoCard
MogoCard is a prepaid card with incentives that feel exceptionally satisfying. For every purchase you make with the MogoCard, you plant a tree that will absorb 500 lbs of CO2 over the course of 25 years
Every time customers use the Mogocard, they plant a tree
Earn bitcoin rewards after achieving milestones
No monthly fee
No free ATM withdrawals
Only Canadian funds can be added to your MogoCard
MogoCard is a great choice for users who are nervous about the security of online payments. It comes with additional security features like identity fraud protection, credit score monitoring, and the ability to freeze your card instantly with the app when necessary. However, the Mogocard offers no cashback, no free ATM withdrawals, and it has very high FX fees. Hence, most users get it for credit score monitoring and the extra security features it offers.
Additionally, the Mogocard offers the following benefits:
Free identity fraud protection
Free credit score monitoring
Instantly freeze your card if necessary
Distinctive rewards like tree planting
Wise Card
The Wise card may be used to make purchases and withdrawals both domestically and internationally, including online. You'll benefit from currency conversion at the current mid-market exchange rate when using the card to make payments in foreign currencies.
No monthly or annual account fee
No foreign transaction fees
Lower currency exchange fees
The Wise card is free for users who already have Wise accounts for personal or business use. Although the Wise virtual card is tied to the Wise debit card and account, it provides several standard credit card protections, and Visa licenses it. However, the Wise card does not offer cashback.
The key selling point of the Wise virtual card is that it offers you access to
50 or more different currencies with your multi-currency account. By doing so, you may make payments in the local currency without ever converting them.
As many as three virtual cards at once
Simple Apply Pay with Google Pay integration
instant creation of new payment information and cards
Instantly freeze your account if necessary
RBC Virtual Visa Debit
Read RBC Virtual Visa Debit Reviews
If you want a card from one of the big Canadian banks, the RBC Virtual Visa Debit Card is a fantastic choice. This card is a debit card, not a credit card, as the name would imply. Because it is a debit card, every purchase you make is instantly applied to your account. However, it lacks some benefits of credit card transactions like cashback or discounts with some retailers. This stops you from going over your budget or getting bills each month.
Offered by a respected financial institution
Great for RBC bank users
Safe and secure for online payments
No cashback
No discount with select retailers
For users that already have a chequing account with RBC, applying for a virtual visa debit card is straightforward. This card is free, but you can't receive one unless you already have an active RBC Royal Bank Client Card. You must call RBC or go to a bank to place your order. You will receive a reference card in the mail containing the card details.
STACK Prepaid Mastercard
Read STACK Prepaid Mastercard Reviews
One of the top free virtual credit cards in Canada is available with the STACK Prepaid Mastercard. The STACK card is compatible with digital wallets for Google Pay, Apple Pay, Samsung Pay, and Fitbit. Your virtual STACK Card is viewable in-app, and you can freeze it instantly if necessary.
Virtual card and digital wallet access
20% cashback on hotels
Instant approval
Insured for up to $100,000 by the CDIC
No welcome bonus
Hard to build credit score
The STACK prepaid Mastercard is great for instant approval and has no annual fees. There is no cost or minimum credit score requirement for the STACK Prepaid Mastercard. Although there is no minimum deposit requirement, you must make a deposit before using your card.
This card offers no foreign transaction fees for purchases made online, overseas, or at ATMs (keep in mind the ATM network may charge a fee). Additionally, it gives discounts on purchases rather than points or awards. This prepaid card is reloadable and provides
Cashback at specific vendors (over 140 retailers)
When you spend money overseas and reach the minimum monthly spending requirement of $350, there are no FX costs.
Free access to a spending tracker, automated savings, and other tools
Free bill payments forever
Early payroll access (2 days early)
Final Thoughts
Although making purchases online has been made easy, a lot of users still have security concerns which is a significant drawback. Data breaches and cybersecurity concerns have grown in recent years. A lot of financial institutions have been working on providing top-notch protection, but identity theft is on the rise.
You can benefit from stress-free online shopping using virtual credit cards, especially when you're dealing with a retailer you're not totally confident in. Apart from security, setting your spending restriction is an underrated feature of virtual credit cards. Most virtual credit cards in Canada include this option, which gives you more control over your spending.
Frequently Asked Questions (FAQs)
Are virtual cards safe?
Yes, virtual cards are very safe and secure. They offer an extra level of protection by masking your actual account information during transactions and rendering it invalid after one transaction. Hence, it will be useless to hackers. In some cases, users are allowed to establish a virtual card number with a predetermined spending limit and expiration date. This will help users limit spending and budget more efficiently. 

Is there instant approval for a virtual credit card number?
Yes. You can acquire a virtual card number and start using it immediately for online transactions as long as your current credit card account allows it.

What are some of Canada's best-known virtual card options?
Some of the best virtual credit cards in Canada include KOHO, Stack, Wealthsimple, and Wise, among others. You can add most of these Canadian credit cards to several digital wallets, which often create a virtual credit card rather than keeping your real card information on file. Consider a KOHO Easy Mastercard or a Stack Prepaid Mastercard if you're seeking virtual prepaid cards that you can create on demand.

Can virtual credit cards affect my credit score?
The answer is no; virtual credit cards have no impact on your credit score. Virtual credit cards are distinct from physical credit cards; you may consider them free prepaid cards you can use whenever you choose without being subject to credit checks or interest rates.

Which Canadian banks offer virtual credit cards?
Virtual cards are provided by the Bank of Nova Scotia (Scotiabank), the Bank of Montreal (BMO), the Bank of Toronto-Dominion (TD), and the Canadian Imperial Bank of Commerce (CIBC). A lot of other smaller banks in Canada also provide virtual credit cards.

How can I get a virtual credit card in Canada?
First, you must apply for a credit card that accepts virtual cards in Canada. To obtain a virtual credit card, sign in to your online account or mobile app, then limit the number of purchases, the amount of money spent, and the uses. After doing this, you can generate a virtual credit card number and enter the information generated to make purchases.

ABOUT THE AUTHOR
Hannah is a seasoned writer based out of Pennsylvania. With years of experience in various writing niches, she provides SEO and on-demand content for Businesses in all industries
ABOUT THE REVIEWER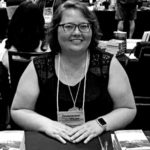 Kristina Knight is a freelance writer with more than 15 years of experience writing on varied topics. Kristina's focus for the past 10 years has been the small business, online marketing, and banking sectors, however, she keeps things interesting by writing about her experiences as an adoptive mom, parenting, and education issues. Kristina's work has appeared with BizReport.com, NBC News, Soaps.com, DisasterNewsNetwork, and many more publications.