Consumers want human touch, even online
Of the 2,274 U.S. adults surveyed, over half (52%), said that their decision not to purchase a product was made "at least sometimes" due to the inability to get help from another human being. Sixteen percent said it affected their decision not to purchase "almost always or often".
So what is driving consumers to seek out the human touch online? Much of the time it is down to the fact that not enough detailed information is present on an e-commerce website in the form of FAQs, forums or customer service functions. Consumers are left with nagging doubts and questions to which they want immediate answers. These questions are pertinent enough to put a consumer off a purchase if they remain unanswered.
Other times consumers may just need reassurance that what they are buying is right for them. This is particularly so with big-ticket items such as real estate and cars, and with commitment-based purchases such as insurance or personal loans.
Of those surveyed who had made an online purchase in the last six months, 93% said they had a question about a purchase and over half (58%) could not find the answer on the e-commerce website "at least sometimes". Sixteen percent said their question could not be answered via the website "almost always or often".
"No level of automation can replace the human touch. The results indicate that shoppers still want real people to help them purchase products, even in a digital setting," said Prashant Nedungadi, CEO and founder of IMshopping. "Many retailers have started taking steps in this direction and we believe it will be the single biggest push for the retail industry over the next several years."
One way to lessen anxiety in consumers is to ensure product descriptions, delivery details and payment functions are clear and detailed. Errors in product descriptions can lead to increased returns and lack of consumer confidence, payment complications lead to lack of trust and bad delivery experiences generate their fair share of complaints and negative word of mouth.
ABOUT THE AUTHOR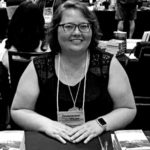 Kristina Knight is a freelance writer based in Ohio, United States. She began her career in radio and television broadcasting, focusing her energies on health and business reporting. After six years in the industry, Kristina branched out on her own. Since 2001, her articles have appeared in Family Delegate, Credit Union Business, FaithandValues.com and with Threshold Media.