Reports ID Changing Consumer Thoughts About Brands
Value Enhances Customer Loyalty
According to a new Redpoint Global report customer loyalty is tied more to personalization and the impression by consumers that brands know and understand them than price. Their survey of more than 1,000 people found that 64% prefer buying from businesses that "know them" and that about one-third (34%) are willing to pay more for products from brands they feel know their likes. Additionally, researchers found that about half (49%) are more likely to buy from brands who do personalization well, 52% like brands to offer relevant recommendations, and 44% prefer brands that make in-store and online navigation simpler.
Where price does continue to come in is generationally. Researchers found that Boomers were most likely to define price as a loyalty builder than younger generations. Gen Xers were most likely to assign value alignment with the brand as a loyalty builder.
"Chasing discounts for goods and services is ultimately a race to the bottom in terms of costs," said John Nash, Chief Marketing and Strategy Officer at Redpoint Global. "The organizations that will thrive are finding ways to increase customer loyalty through delivery of timely, relevant and highly personalized information. Consumers strongly indicate that personalization and an overall frictionless customer experience are foundational to building relationships that are built to last."
More data from Redpoint's study can be accessed here.
Consumers Want Brands To Value Similar Things
The value alignment piece of loyalty continues to grow from a consumer standpoint. According to data out from Savings.com most US shoppers (83%) have boycotted brands within the past year because of things like political affiliation, religious views, or labor practices, and about two-thirds (62%) of shoppers say they will stop shopping with brands that don't feel the same as they do about racial equality.
Brands Miss "Knowing" Shoppers
Another issue for merchants and brands in the online space is consumer viewability. While more and more shoppers wanting to feel as if brands understand and know who they are, Bluecore data indicates that most (77%) of shoppers are "invisible" to brands when they are only viewing products.
The good news is that once consumers add items to their shopping carts, their viewability increases. Bluecore's data shows that more than half (57%) of shoppers are known to brands once they add items to their shopping carts.
The data is an indicator that brands need to refresh their engagement strategy so that their shoppers are known – and feel valued – in a faster time frame.
ABOUT THE AUTHOR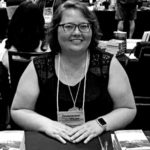 Kristina Knight is a freelance writer based in Ohio, United States. She began her career in radio and television broadcasting, focusing her energies on health and business reporting. After six years in the industry, Kristina branched out on her own. Since 2001, her articles have appeared in Family Delegate, Credit Union Business, FaithandValues.com and with Threshold Media.