Consumers to brands: Don't call me maybe
Pitney Bowes' European research has found that consumers in the UK are increasingly frustrated that brands are not communicating with them using relevant and engaging methods. Instead, many brands continue to use channels that they find irritating.
As an example, while 71% of businesses in the UK, France and Germany rely on telephone calls as part of their communications mix, 60% of British, 51% of French and 53% of German consumers find marketing telephone calls extremely irritating.
However, across all three countries, direct mail was seen as the least intrusive and consumers in France and Germany actually prefer printed direct mail. More than 4 in 10 are not happy with text messages, more so when they are not relevant, and 56% dislike advertising inserted into their social media newsfeeds without their consent.
Pitney Bowes' research also highlights the sheer volume of marketing communications consumers are subjected to each week. Across all three countries consumers receive 17 marketing emails, 12 messages across social media, 10 promotion text messages, 10 phone calls and nine printed promotions. That's a lot of clutter to sort through and 59% said they delete irrelevant communications within five seconds of seeing it.
For brands, it means they need to develop original, personalized content that stands out from the crowd. This can be done by increasing the variety of data collected and using it to send better targeted communications. Furthermore, more creative, interactive and visual content is more likely to stand out and distract.
According to Clive Stringer, Business Development Director for Pitney Bowes, the survey findings "identify a need for businesses to reconsider and transform their communications, to use an intelligent mix of physical and digital channels, and to use the data available to them to create cut-through and deliver creative, personalized marketing campaigns".
ABOUT THE AUTHOR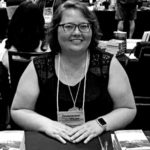 Kristina Knight is a freelance writer based in Ohio, United States. She began her career in radio and television broadcasting, focusing her energies on health and business reporting. After six years in the industry, Kristina branched out on her own. Since 2001, her articles have appeared in Family Delegate, Credit Union Business, FaithandValues.com and with Threshold Media.