Why ratings are more important than ever
Porter Novelli's 2011 ConsumerStyles report finds that 60% of Millenials and 56% of Gen Xers are more likely to rate items they like than those they don't like; similar findings from the older demographics. More than 40% of Seniors are more likely to rate liked-items than not liked.
"Customers expect, and are already participating in a two way dialogue," said Daina Middleton, Performics CEO. "It's imperative for marketers to listen to customers and adopt strategies that engage them in every channel of their media mix – across all platforms, devices and screens."
Data from a recent ROI Research/Performics reports underlines the importance of this kind of social media conversation. Their research finds that 74% of entertainment consumers share their experiences on social media, more than half of socnet users 'follow' travel brands to learn about deals/offers and just over 40% indulge in car talk before making a new car purchase. More than one-third of survey respondents say they talk about purchases on social media specifically to talk express their satisfaction.
How can you take advantage? One cost-effective measure is to include social media feeds – Twitter, Facebook, Google +, etc. – into your website. The new vSites option from vFlyer is one way to revamp a website to include social media. The platform allows businesses to create websites with social media integrations, to add rich media quickly and to manage sites at a low cost.
ABOUT THE AUTHOR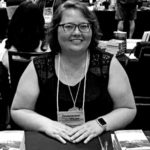 Kristina Knight is a freelance writer based in Ohio, United States. She began her career in radio and television broadcasting, focusing her energies on health and business reporting. After six years in the industry, Kristina branched out on her own. Since 2001, her articles have appeared in Family Delegate, Credit Union Business, FaithandValues.com and with Threshold Media.