Borders Books breaks from Amazon.com

Books are big business online and Amazon.com has been the driving force for quite some time. In 2001, Borders Books (BB) made the decision to work alongside Amazon.com rather than develop its own web store. Now, in a recent announcement, made after disappointing Q4 2006 results, BB has confirmed its intention to go online alone and "mesh the in-store sales with online".
BB's plans include developing its own website, closing many of its bricks and mortar stores abroad and revitalising its 499 existing superstores.
A new store concept is in development which includes a digital center where customers can purchase various digital products, including music and audiobooks.
Anne Roman, a BB spokeswoman, said the website would also allow them to connect with the 17 million customers who are part of the company's rewards loyalty program.
"We need to reinvent our business to exploit the rapid changes taking place in how consumers access information and entertainment," said BB's CEO George Jones in a recent press release. "Our ultimate goal is to make Borders a vital community gathering place where people come together to see, touch, interact, and learn – online and in-store."
ABOUT THE AUTHOR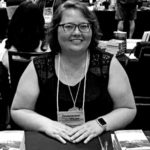 Kristina Knight is a freelance writer based in Ohio, United States. She began her career in radio and television broadcasting, focusing her energies on health and business reporting. After six years in the industry, Kristina branched out on her own. Since 2001, her articles have appeared in Family Delegate, Credit Union Business, FaithandValues.com and with Threshold Media.