Expert: MCommerce nearing tipping point
Kristina: Over the past 2-3 years, we've seen steady upticks in mobile shopping – are we nearing the tipping point for m:commerce?
Igor Gorin, founder and CEO of Astound Commerce: It certainly looks that way. An eMarketer study found that U.S. smartphone users will make up nearly 80% of mobile users in 2016, and forecasts that number will continue to grow through 2020. In that same vein, projected mobile commerce sales are expected to be 33% of overall ecommerce sales in 2016, compared to 26% in 2015. By 2020, mobile commerce is expected to be right around 50% of total ecommerce, suggesting that we are experiencing the next big shift in ecommerce.
Kristina: In your opinion, what is next for mobile commerce?
Igor: Apple consistently shows that it is able to position its technology to adapt to the evolution of ecommerce. I expect in the near future we'll see the commerce experience more deeply incorporate automated bots or voice technology like Siri or Alexa. As a leader in innovative payment processing integration, Apple is already setting itself up to be a leader in the years to come.
Kristina: With Apple's latest updates, Apple Pay is now on desk and laptops as well as mobile devices. Do you see this change having a big impact on mobile and e-commerce?
Igor: Apple's new update will continue to simplify the mobile and desktop shopping experiences. By providing an experience on desktop that integrates an easy checkout (using thumbprint or password input instead of a slog through credit card forms), the company has dramatically streamlined the path to purchase.
More from Igor and Astound Commerce next week, including how Apple may be changing the game for mobile commerce.
ABOUT THE AUTHOR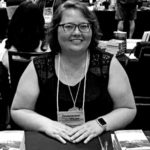 Kristina Knight is a freelance writer based in Ohio, United States. She began her career in radio and television broadcasting, focusing her energies on health and business reporting. After six years in the industry, Kristina branched out on her own. Since 2001, her articles have appeared in Family Delegate, Credit Union Business, FaithandValues.com and with Threshold Media.