Top 3 Tips To Use Low-Code To Improve CX
What Is Low-Code?
In the digital world, business moves in near real-time and customers expect instant gratification, whether they're shopping online or applying for credit. That means organizations need to digitalize and optimize their operations throughout the enterprise.
Given the accelerated rate of B2B and B2C transactions since the beginning of the COVID-19 pandemic, great customer experiences need to be created and updated at a faster pace, which is impossible to do with traditional coding.
Who Struggles With Low-Code?
According to data out from Mendix about 90% of organizations are facing challenges in the delivery of customer experience because of their technology baseline. About half say they'll look at improving their mobile experience over the next year and more than two-thirds (88%) report customer experience improvement is a priority for the coming year.
To meet the needs of today's digital-first world, businesses are using low-code to deliver better customer experiences, in part, because low-code accelerates development by as much as 10 times, compared to traditional software development.
How To Implement Low-Code
Here are three tips to use a low-code strategy to improve the customer experience.
First, choose what customer experience to optimize with low-code
"A good place to start is to identify a customer experience problem. For insurance companies, claims management tops the list because policy holders complain they don't have visibility into their claim and that their claim is taking too long to get paid," write the Mendix experts. "The best way to address a problem like that is to understand the problem first. In the case of insurance claims, a good experience involves both the front-end and the back-end of the application. On the front end, the user experience should be simple and intuitive. It should also take advantage of automation so instead of waiting weeks or months for humans to respond, the claimant can get an immediate response, such as "Thank you for submitting your claim!" However, the backend also must be optimized to enable smooth processes and workflows"
Second, cheat at learning low-code
"Low-code is faster and easier than traditional coding because it provides a visual, drag-and-drop means of building an application or automation. [Low]-code enables power users, such as tech-minded business analysts, to build their own applications and workflows. Then, when the project grows beyond its creator's technical capabilities, the project can be transitioned seamlessly to a professional developer," they note. "Two other things that can accelerate a successful implementation are taking advantage of templates the low-code vendor may have developed for a particular industry and simply customizing them. Also, consider getting help from the vendor or one of its go-to-market partners because both the vendor and their partners have expert-level low-code platform skills — and often, specific industry expertise — that helps accelerate success."
Third, learn and grow with low-code
"Low-code is an ideal means of achieving organizational agility because it allows users to quickly create a proof-of-concept (POC), minimally viable product (MVP), or complete application that can be enhanced easily using low-code," they write. "Low-code also tends to grow organically in organizations. When one department witnesses another succeeding with a low-code project, they want to know how they can do similar things to optimize their operations, processes, and "customer" experience (which may be employees)."
ABOUT THE AUTHOR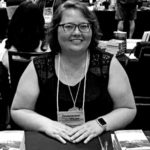 Kristina Knight is a freelance writer with more than 15 years of experience writing on varied topics. Kristina's focus for the past 10 years has been the small business, online marketing, and banking sectors, however, she keeps things interesting by writing about her experiences as an adoptive mom, parenting, and education issues. Kristina's work has appeared with BizReport.com, NBC News, Soaps.com, DisasterNewsNetwork, and many more publications.