Report reveals impact of augmented reality on retail
Augmented reality has become part of today's consumers' shopping experience, according to the new report 'The Impact of Augmented Reality on Retail'. Nearly two-thirds (61%) of the 1,000 U.S adults surveyed by Interactions for the report said that augmented reality has influenced where they shop.
Sixty-eight percent of those surveyed said they would spend more time in a retailer's store if they could use augmented reality. Six out of 10 consumers (61%) said they prefer to shop in stores that have augmented reality experiences over ones that do not and nearly three-quarters said they had purchased items they had not planned on because of augmented reality. Furthermore, 40% said they would be willing to pay more for a product if they could use augmented reality to experience it prior to purchase.
So, what is it about augmented reality that consumers like? The study found that shoppers not only find the technology helpful, but also that it is fun and time-saving. Augmented reality also allows shoppers to view different product options such as colour, or style, and 41% use it to find special promotions or deals.
"AR is reshaping the way shoppers experience and engage with retailers," said Bharat Rupani, president of Interactions. "We are seeing even the most traditional brands starting to include this experiential element in stores, largely driven by customer interest."
Earlier this year, International Data Corporation released a report showing that global revenues from augmented (AR) and virtual reality (VR) will grow from $5.2 billion this year to more than $162 billion by 2020 – a CAGR of just over 181%.
ABOUT THE AUTHOR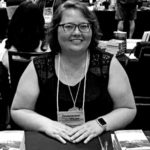 Kristina Knight is a freelance writer based in Ohio, United States. She began her career in radio and television broadcasting, focusing her energies on health and business reporting. After six years in the industry, Kristina branched out on her own. Since 2001, her articles have appeared in Family Delegate, Credit Union Business, FaithandValues.com and with Threshold Media.