Consumers want more product information on in-store packaging
The online survey of just over 2,000 U.S. adult shoppers found that 85% say their in-store purchasing decisions are helped by reading product packaging. However, more than three-quarters (78%) say that the product packaging doesn't contain enough information and they are left wanting more.
So what do those consumers do when they can't find the information they want on product packaging? Three-quarters (75%) go home and get online and do more research and then purchase online. The need for additional product packaging information was found to be even higher among Millennials (87%).
"Shoppers who can't quickly find the information they need to make a purchase decision are likely to put a product right back on the shelf," said Larry Logan, Chief Marketing Officer at Digimarc. "Retailers and brands can increase the chances of completing a sale by delivering instant information to a shopper's smartphone."
With 65% of shoppers with smartphones willing to spend no more than one minute using their device to find out additional information on a product while in-store, something like Digimarc's Barcode platform could be just what retailers need to save the sale in-store. The barcodes can not be seen with a naked eye, so do not detract from packaging design, but they are scannable by a mobile device and can provide shoppers with the sort of information they are seeking quickly and easily.
"The latest generation of shoppers, having grown up in a mobile world, expect more information and want it to be at their fingertips at all times. But expecting shoppers to type in web addresses or do keyword searches while in the store is inefficient and can actually lead them to the competition," said Logan. "With a single scan, Digimarc Barcode takes shoppers directly to the information they need and creates new opportunities for retailers and brands to engage with their customers."
The survey revealed that the sorts of information being sought by in-store shoppers include price comparisons (45%), reviews/ratings (43%), coupons or special offers (40%) and ingredient and nutritional details (34%).
ABOUT THE AUTHOR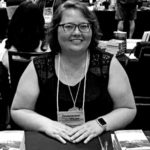 Kristina Knight is a freelance writer with more than 15 years of experience writing on varied topics. Kristina's focus for the past 10 years has been the small business, online marketing, and banking sectors, however, she keeps things interesting by writing about her experiences as an adoptive mom, parenting, and education issues. Kristina's work has appeared with BizReport.com, NBC News, Soaps.com, DisasterNewsNetwork, and many more publications.