People, not ads, most effective means of influencing consumer buying decisions
According to Experticity's study, it is people, not channels, that consumers trust the most. Their study found that, while 83% of marketers believe traditional advertising is the most effective means of influencing consumers' buying decisions, less than half of consumers (47%) agreed with them. In fact, traditional advertising was almost the very least trusted source.
Furthermore, 82% of marketers believe that social media is an "extremely" or "somewhat" effective channel via which to influence consumers yet, once again, consumers disagree. Just 49% of consumers said they trust brand campaigns on social media.
When it comes to which sources consumers trust the most, people featured in the top three. Eighty-one percent of consumers ranked family or friends as their top trusted source, followed by online reviews (76%) and third-party experts (70%).
Yet, found the study, just 36% of marketers implement programs that support word-of-mouth.
"Consumers clearly value interactions with credible, trustworthy people much more than traditional advertisements," said Tom Stockham, CEO of Experticity. "Across the board, marketers are overvaluing traditional advertising and not placing nearly enough emphasis on actual people–who, it turns out, are what actually impact consumers most."
ABOUT THE AUTHOR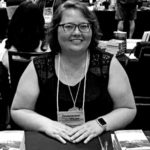 Kristina Knight is a freelance writer based in Ohio, United States. She began her career in radio and television broadcasting, focusing her energies on health and business reporting. After six years in the industry, Kristina branched out on her own. Since 2001, her articles have appeared in Family Delegate, Credit Union Business, FaithandValues.com and with Threshold Media.