Study: Most shoppers researching via mobile
New data out from HookLogic and Market Tree identifies consumer behaviors across six key shopping categories including apparel, health and beauty and electronics. Researchers found ore than 60% of consumers browse the core six categories online once a month; the six key categories are Clothing, Health & Beauty, Electronics, Baby Care, Home Goods and Grocery.
Some interesting takeaways from the report include:
• 60% of consumers report researching products via mobile phone
• 46% say they've mad mobile purchases
• 46% say they've researched on one device and then purchased on another
• 63% say they are product-specific when shopping online
• Of those who research via mobile, most are comparing prices or looking at reviews
"Mobile sales continue to grow at a lightning-fast pace, and will dominate desktop sales in a matter of years, not decades," write the report authors. "In-store use is growing even faster, as consumers look online to get deeper, real-time information. Of consumers who have used a phone in-store, 71% were comparing prices while nearly 60% were looking at reviews and product details. Cross-purchase dynamics are strong, with 46% of shoppers saying they had researched a product on one device then purchased on another.
Researchers found the average apparel shopper spent $313 the month prior to the survey while health and beauty shoppers spend $346 (average) and electronics shoppers spend $395 (average).
ABOUT THE AUTHOR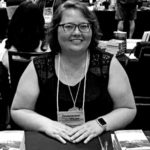 Kristina Knight is a freelance writer based in Ohio, United States. She began her career in radio and television broadcasting, focusing her energies on health and business reporting. After six years in the industry, Kristina branched out on her own. Since 2001, her articles have appeared in Family Delegate, Credit Union Business, FaithandValues.com and with Threshold Media.