How Tina Fey inspired Ask.com to change
Kristina: Tell me how Tina Fey's book inspired Ask.com?
Lisa Kavanaugh, Ask.com Chief Technology and Product Officer: Amidst [the significant] growth, we were . . . executing well in the present but not planning for how we could really move the needle in the future. Doug Leeds, Ask.com CEO, happened to be reading Tina Fey's book and her references to improv struck a chord with him in terms of how they might help us get out of our rut. The idea of applied improv in the workplace is nothing new. But most companies offer employees something like a half-day workshop. They don't make it a cultural mandate. At Ask, that's exactly what we've done – everyone from the receptionist to the engineering and product department has gone through the training and still applies these skills to their work on a daily basis. In fact, every Friday, the whole office dedicates half the day to applying improv to our brainstorms.
Kristina: How is improv changing the way things work at Ask? And how can other businesses take this sort of change and work with it?
Lisa: One of the key tenets of improv is to be open, accepting, and appreciative of other's contributions, and build upon them. To create a safe environment for all ideas – no matter how crazy or off the wall. Because you're in that crazy nonsensical idea, there could be seeds of something valuable and real. So, at Ask, you're starting to see less "bullet-proofing" of ideas going on and overall more effective brainstorming, where the aim is to generate as many ideas as possible BEFORE you start filtering. Applying improv techniques in this manner can certainly work for any business or any sector looking to shake up how they do things. Initially it feels silly and awkward, but getting out of your comfort zone really does unlock a dormant part of your brain. I encourage everyone to give it a try!
ABOUT THE AUTHOR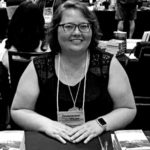 Kristina Knight is a freelance writer based in Ohio, United States. She began her career in radio and television broadcasting, focusing her energies on health and business reporting. After six years in the industry, Kristina branched out on her own. Since 2001, her articles have appeared in Family Delegate, Credit Union Business, FaithandValues.com and with Threshold Media.