Young consumers not abandoning physical stores for online
Saatchi's research starts with some pretty damning figures relating to the UK's high streets. They found that 1 in 6 stores in the UK are currently abandoned and footfall is down by 10% in the last three years.
Furthermore, 11% of the country's high streets are in decline.
However, it's not because young consumers are abandoning them, suggests the Saatchi findings (reported by Econsultancy). Over three-quarters (77%) of the 1,508 16-29 year old respondents to their survey said they "love to shop" in physical stores and 78% had visited their local high street in the week leading up to the survey.
But, the survey also showed that almost half (47%) have little pride for their high street and have little personal connection with it. They feel there are too many generic stores and very little are aimed at their age range.
Magnus Djaba, UK chief executive of Saatchi & Saatchi, says many retailers are struggling to keep customers because they are more concerned with taking money than providing shoppers with an experience. "If you think about the Apple store, it's not about 'how fast can I get a transaction off a young person?' it's about the experience," he said.
Young consumers in the US also enjoy visiting physical stores. According to the results of a recent survey by a group of LIM College students, in conjunction with the National Retail Federation Student Association (NRFSA), over two-thirds (68%) of US youngsters prefer to shop offline, at least for their fashion needs.
"We like shopping in stores and are not as engaged in shopping on the Internet as many have touted. I guess the demise of the brick and mortar format of retailing – at least for 18-25 year-olds – is grossly exaggerated," said Nicole Flasch-Mihalko, a member of the LIM College NRFSA research team.
ABOUT THE AUTHOR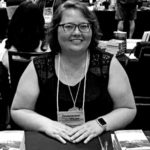 Kristina Knight is a freelance writer based in Ohio, United States. She began her career in radio and television broadcasting, focusing her energies on health and business reporting. After six years in the industry, Kristina branched out on her own. Since 2001, her articles have appeared in Family Delegate, Credit Union Business, FaithandValues.com and with Threshold Media.