iPerceptions: Current ad formats ineffective
iPerceptions' latest survey into which ads are being clicked on, and by whom, appears to suggest that good old-fashioned text ads are the most likely to be clicked.
The Montreal-based web analytics and market research firm found that text ads were clicked on 25% of the time, whereas video or rich media units commanded just 11% and 7% of clicks, respectively, reports MediaPost.
The probable reason behind the high click rate of text ads is that consumers have been "conditioned" by their use of Google and seeing text ads related to searches.
iPerceptions' vice president of marketing, Jonathan Levitt, believes current ad formats just aren't effective. "Brands are going to have to start looking at things like direct content integration and product placement," he said.
What iPerceptions' research doesn't take into account is what happens after a consumer is exposed to a rich media, display or video ad but doesn't click through.
Eyeblaster recently released a tool called 'Channel Connect for Search', that enables marketers to track consumers who were exposed to, or interacted with, display ads but did not transact immediately.
"Click through rates are on a serious decline," said Dean Donaldson, digital experience strategist at Eyeblaster. "Often you're only getting interaction from 10 to 20% of the audience so it's really important to understand what the other 80 to 90% are doing."
ABOUT THE AUTHOR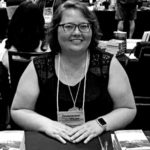 Kristina Knight is a freelance writer based in Ohio, United States. She began her career in radio and television broadcasting, focusing her energies on health and business reporting. After six years in the industry, Kristina branched out on her own. Since 2001, her articles have appeared in Family Delegate, Credit Union Business, FaithandValues.com and with Threshold Media.