Netflix + Ads? What It Means For Streaming
Netflix Hints at Ad Supported Platform
Over the first quarter of 2022 streaming giant Netflix lost about 200,000 consumers according to reports. And the latest buzz – that they're considering an ad-supported streaming model – has many more scratching their heads and considering an exit from the grandfather of streaming services. According to co-CEO Reed Hastings the streamer is "now open" to developing lower-priced tiers of services to its members.
Netflix isn't the only streaming service to consider new ad-supported models. Disney, too, has floated the idea of lower priced, ad-supported tiers for their subscribers, and Hulu has always had ad-support as one of their membership tiers.
"It's no surprise that platforms such as Netflix have earmarked their intention to move from a sole subscription-based to a more ad-funded model," said Tony Marlow, CMO, Integral Ad Science. "The pandemic changed consumer behaviors in many ways, including media consumption."
Streaming Boom Slowing
Marlow notes the streaming boom, which began at the beginning of the pandemic when many people were staying home, has slowed significantly as people have begun going out more and returning to pre-pandemic habits. Added to increases to the cost of living, he says it is not a surprise that consumers are cutting back.
"Our research at IAS clearly shows that viewers are increasingly open to ad-supported video options: three in ten (30%) consumers say that they already pay too much for subscription-based streaming services and eight in ten (83%) are willing to watch ads to gain access to free streaming content. The pandemic was a pivot point for ads to be more accepted across CTV devices that allow the streaming of video content."
Ad Innovation Key to Acceptance
Alongside these changes to consumer habits, video advertising is experiencing innovation at its fastest-pace. This creates a host of opportunities for marketers to build connections with their intended audiences, notes Marlow. Compared to linear TV, CTV allows much richer features to target more accurately, and customise settings such as ad breaks and frequency and length of ads, in a manner not possible through commercial breaks on traditional TV.
"This is a win for advertisers looking to target more effectively, a win for publishers and streaming platforms being able to monetize their inventory at a premium and a win for consumers for a more targeted and overall better viewing experience," said Marlow. "But having never previously run ads on their platform, Netflix will be starting from scratch with their safety and suitability approach, and they will have to ensure that advertisers can tap into the potential of their audience while aligning with only the content appropriate for their brand. The onus is now with streaming platforms and the digital advertising industry to meet consumer needs combined with an enjoyable experience."
ABOUT THE AUTHOR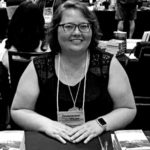 Kristina Knight is a freelance writer with more than 15 years of experience writing on varied topics. Kristina's focus for the past 10 years has been the small business, online marketing, and banking sectors, however, she keeps things interesting by writing about her experiences as an adoptive mom, parenting, and education issues. Kristina's work has appeared with BizReport.com, NBC News, Soaps.com, DisasterNewsNetwork, and many more publications.