Expert: Why unsubscribes aren't necessarily bad
Kristina: What trends are you seeing right now in email marketing?
Colby Cavanaugh, SVP of Marketing, Emma:The days of marketers sending "batch-and-blast" emails are officially over. They've been on their last legs for a while, but now companies in all industries and of all sizes are abandoning them for good.
It makes sense. Consumers expect brands, big and small, to know what they like and to deliver content that reflects their interests. Plus, inboxes are already way too crowded, so delivering relevant, personalized email is a must if you want to hit your goals. With the sheer amount of powerful tools at our fingertips (like web tracking, data integrations and automation), there's really no excuse not to get to know your subscribers and send the kind of personalized, data-driven emails that truly gets results.
Kristina: We're seeing brands turn more heavily to data – how can data be better used for email targeting?
Colby: Every email is an opportunity to learn more about your audience. Did they open it? What link did they click? Did they ultimately convert? Then, you can use that data to power more relevant campaigns – often without ever actually hitting "send."
For example, branching logic allows you to automate different campaigns based on whether or not subscribers opened an email or clicked a particular link. So, if they clicked on something in your email, you can automatically trigger a follow-up containing similar topics, products or services. If they didn't click, you can trigger an email with different content to see if that ignites their interest.
Kristina: How can the information associated with unsubscribes be used to build a better list?
Colby: Despite what many marketers would like to believe, not every person wants or needs what your brand has to offer.
There's also a chance that due to some sort of misunderstanding during the signup process, you gained a few subscribers who weren't the right fit. Then, somewhere down the road, they realized you guys weren't a match made in heaven… and that's ok! It's much more worthwhile for you to spend time nurturing qualified prospects than to waste effort on folks who were never going to convert in the first place (and potentially damage your sender reputation in the process).
ABOUT THE AUTHOR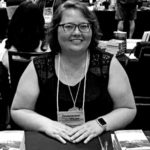 Kristina Knight is a freelance writer based in Ohio, United States. She began her career in radio and television broadcasting, focusing her energies on health and business reporting. After six years in the industry, Kristina branched out on her own. Since 2001, her articles have appeared in Family Delegate, Credit Union Business, FaithandValues.com and with Threshold Media.