Ad Roundup: Releases, partnerships focus on data
First, marketing hub Pyze has launched their Hyper Growth tier. The new tier is part of its Growth Intelligence Platform and is targeted to mobile app publishers. The new tier will help app publishers better segment their users and deliver more targeted experiences for users within apps.
"The gap between poor and good apps is continuously shrinking, yet the gap between good and great apps is growing," said Dickey Singh, co-founder and CEO of Pyze. "Great apps appeal to users' emotions with relevant personalized experiences, which has a significant impact on engagement, retention, satisfaction and, ultimately, growth and success. The Pyze Hyper Growth tier is the next stepping stone on the path to closing the wealth inequality gap in the mobile app market."
And 33Across has expanded their partnership with LiveRamp; through the partnership LiveRamp clients will have access to 33Across data that includes analysis of more than 200 audience segments.
"33Across has been strategically building its partnership with LiveRamp to provide marketers with comprehensive and accurate data that enables them to reach their target audiences," said Eric Wheeler, CEO of 33Across. "With today's news, we're taking this partnership to the next level by making it even easier for marketers to use our data and LiveRamp's offerings to differentiate their campaigns."
Meanwhile, Greenlight Insights, formerly Greenlight VR, has added to partnerships to its Virtual Reality Industry Monitor survey; the new additions include Silicon Valley Virtual Reality and VRPlay, and will add depth to the bi-annual survey.
"Understanding how innovators across different markets are building businesses and what their expectations are for the emerging medium is a responsibility Greenlight Insights takes very seriously, so we are excited to partner with the largest virtual reality communities around the globe," said Clifton Dawson, CEO of Greenlight Insights.
ABOUT THE AUTHOR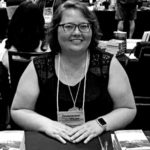 Kristina Knight is a freelance writer with more than 15 years of experience writing on varied topics. Kristina's focus for the past 10 years has been the small business, online marketing, and banking sectors, however, she keeps things interesting by writing about her experiences as an adoptive mom, parenting, and education issues. Kristina's work has appeared with BizReport.com, NBC News, Soaps.com, DisasterNewsNetwork, and many more publications.