Study: Images edging out content for engagement
There is a shift occurring in the online space and it is a shift away from content – even on publisher sites – and into images. That is the word from a new survey out from TripleLift.
TripleLift surveyed more than 100 advertising executives as part of their inaugural Visual Web Awards. They asked these pros to rank eight different publishers – both small and large – across all verticals to determine which sites were the most attractive/engageing. Nearly half (40%) ranked the Macheesmo site as the best.
"I think visual design is an incredibly important part of the user experience on the web. It makes everything easier if you have a memorable design. Your visitors will appreciate an easy layout and remember a unique brand. Investing in a good design that showcases your content and voice clearly is some of the best money you can spend in the online world," said Nick Evans, Macheesmo founder and publisher.
TripleLift credits this shift to consumers and their increasing use of mobile devices to read newspapers and content sites, engage with their social networks and shop their favorite retailers. Images are simpler for consumers to share via social networks and even email.
ABOUT THE AUTHOR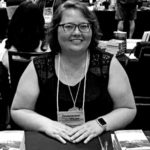 Kristina Knight is a freelance writer based in Ohio, United States. She began her career in radio and television broadcasting, focusing her energies on health and business reporting. After six years in the industry, Kristina branched out on her own. Since 2001, her articles have appeared in Family Delegate, Credit Union Business, FaithandValues.com and with Threshold Media.