Top 3 tips for creating engaging online events
Most people think of online events as sales meetings for offices separated by regions or even countries. There is a growing movement that is set of creating online events for consumers that will benefit brands. One expert offers his advice to creating engaging content for online events.
First, Define and Refine.
"Define your objectives and refine your target audience," said Matthew Wainwright, Marketing Director, Attend. "Start by agreeing on your overriding goal for the online event. This could be lead generation, identifying potential new recruits for your business, or establishing a connection with prospective partners."
Second, Content is King.
"Plan the content well ahead of time and make sure you do a dress rehearsal before the event to iron out content, technical and delivery issues. The goal is to leave the attendees wanting more. In that regard, choosing an engaging presenter is extremely important. A well-known presenter, such as an industry thought leader, can help to pull in attendees and may not be as expensive as you think," said Wainwright. "They may also agree to present for free if you are helping them to reach a new audience. A senior executive from your organization who is skilled at presenting online, where real-time audience feedback is limited, is also a good option."
Third, Follow-up.
"The actions you take immediately after your event such as distributing relevant content to attendees, requesting survey questionnaires, and asking the sales team to follow up with interested prospects can impact its overall success," said Wainwright. "New leads need to know you have more to offer, existing leads need to be pushed into further conversations and existing customers need to know how they can use your product or service to take further action."
ABOUT THE AUTHOR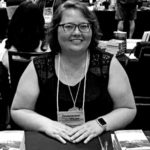 Kristina Knight is a freelance writer with more than 15 years of experience writing on varied topics. Kristina's focus for the past 10 years has been the small business, online marketing, and banking sectors, however, she keeps things interesting by writing about her experiences as an adoptive mom, parenting, and education issues. Kristina's work has appeared with BizReport.com, NBC News, Soaps.com, DisasterNewsNetwork, and many more publications.