Top 3 tips for SMBs using webinars
The content can then be recycled and used in social media, on company websites or through newsletter. One expert offers his top tips for brands to implement webinars into campaigns.
First, streamline marketing efforts with marketing automation integration
"SMBs should integrate their webinars with CRM and marketing automation tools. The integration allows participant data to be quickly evaluated and loaded into customer relationship management (CRM) systems and/or directly to sales for immediate follow-up," said Lars Christensen, Vice President of Marketing with ON24.
Second, deliver an interactive user experience
"The use of polls and surveys throughout a webinar supports attendee interaction and can provide useful participation information to producers," said Christensen. "Creating a highly interactive user experience, social media integration makes it easy for attendees to share comments, opinions and questions across various social media channels – including Twitter, Facebook and LinkedIn – and helps maximize the time spent in a webinar and create deep audience engagement. Social sharing can also provide valuable data and help SMBs promote and distribute their content. Chat features also enable an interactive user experience, allowing attendees to engage with each other and/or the host of the webinar. Enhanced question-and-answer functionality further encourages attendee participation and, as a result, engagement."
Third, users expect customization
"Today's users expect a personalized experience – ideally one they can control. On the producer side, webinars equipped with widgets allow hosts to customize the webinar based on the audience. SMBs can build custom registration pages and email reminders, design engaging audience consoles and easily use their logo and branding on the webinar so the content and the webinar experience truly "belong" to them," said Christensen. "This also enhances the professional feel of the webinar, which is important to SMBs trying to gain credibility in their space. With the right webinar platform, SMBs can easily produce professional-quality, branded webcasts that deliver an engaging and interactive user experience."
ABOUT THE AUTHOR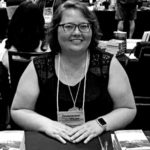 Kristina Knight is a freelance writer with more than 15 years of experience writing on varied topics. Kristina's focus for the past 10 years has been the small business, online marketing, and banking sectors, however, she keeps things interesting by writing about her experiences as an adoptive mom, parenting, and education issues. Kristina's work has appeared with BizReport.com, NBC News, Soaps.com, DisasterNewsNetwork, and many more publications.