Survey: Mobiles look to devices before, during, after shopping
According to the RadiumOne 2nd Annual Mobile Shopping Survey in-store comparison shopping using mobile devices has doubled (6% in 2013 10% in 2014) while about three-quarters say they use mobile coupons during 25% of their shopping visits.
How can retailers capitalize on this trend? Because shoppers are using mobile in-store, researchers believe geo-local push notifications or opt-in lists are one way to tap into shoppers' interest.
"The opportunities for brands to engage consumers at all points of the marketing funnel have finally reached mainstream scale, with mobile users engaged in their devices so frequently throughout the day, and using their devices throughout the sales decision process," said Gurbaksh Chahal, CEO and founder of RadiumOne. "The key takeaway of our study is that consumers do engage, provided brands reach them in the proper context and geography and recognize at what stage of the purchase cycle to engage."
Other interesting findings from the report include:
• 50% of mobile users share coupons, sales and ads with friends
• 18% are reading reviews via mobile device after being in a store
• 33% of mobile gamers have clicked on ads
• 6% of mobile video viewers have clicked on ads
ABOUT THE AUTHOR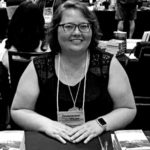 Kristina Knight is a freelance writer based in Ohio, United States. She began her career in radio and television broadcasting, focusing her energies on health and business reporting. After six years in the industry, Kristina branched out on her own. Since 2001, her articles have appeared in Family Delegate, Credit Union Business, FaithandValues.com and with Threshold Media.