How Pinterest is pushing social commerce
According to recent data from Addshoppers Pinterest is pushing about one-quarter of social commerce for their retail clients (2013).
"Pinterest is a visual, social channel and has taken off as a part of the social eCommerce trend we're seeing. This growth could be attributed to the sleek, visual interface that feels almost like traditional shopping, letting the eye bounce from image to image based on what catches the user's attention. And now, with promoted pins, brands can grab the shopper's attention even more readily," said Aneesh Desikan, Social Practice Lead and Manager, Digital Marketing, Acquity Group.
Desikan notes that Pinterest allows brands to showcase product as well as increase organic reviews and conversation. Acquity Group clients are seeing an uptick in how consumers are engaging with their brands: one retail client uses Pinterest to spotlight crafting products and tutorials while another has found Pinterest is pushing about one-quarter of the traffic from social channels to their website – more even than Facebook.
"While the assumption seems to be that moms purchase more on Pinterest, our study actually only found a marginal difference between the social shopping habits of women with children under 18 and women without," said Desikan. "The study also found that 62% of women shop most frequently for clothing and apparel through social media, suggesting that this is a mode for discretionary items rather than necessities."
Younger shoppers, especially, are engaging through social media, including Pinterest. Acquity Group's research shows about one-quarter of 18-25 year old women say they've purchased a product because of a social network posting while just over one-third of those between ages 26 and 45 say they've 'never purchased' products because of social postings. Those women, however, are willing to try social commerce.
More from Aneesh and Acquity Group tomorrow, including top three tips to improve social media management
ABOUT THE AUTHOR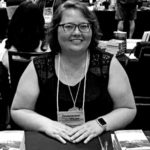 Kristina Knight is a freelance writer with more than 15 years of experience writing on varied topics. Kristina's focus for the past 10 years has been the small business, online marketing, and banking sectors, however, she keeps things interesting by writing about her experiences as an adoptive mom, parenting, and education issues. Kristina's work has appeared with BizReport.com, NBC News, Soaps.com, DisasterNewsNetwork, and many more publications.