Top 3 video trends to watch
First, more brands will become niche newsrooms. As consumers demand more and more content, they are looking outside typical channels like YouTube. This trend, says one expert, will push many brands into experimenting with new tools which will allow them to serve as well as create relevant, brand-centered content.
"The next generation of advertising will see brands making use of more complex and more varied data sets to improve targeting and timing e.g. only advertising woolly hats in cities where temperatures have fallen overnight or advertising umbrellas in areas where it's forecast to rain," said Sarah Wood, COO, Unruly.
Second, mobile will become the first screen, taking over from television. Wood notes that, just based on campaigns on the Unruly network, the click-thru rates for smartphones and tablets tripled in 2013; that trend, she believes will continue through 2014.
Finally, look for social channels to amplify TV ad spent and budgets.
"Social video advertising – which sits at the intersection of social, mobile and video, the three hottest trends in digital marketing – has long been overshadowed by TV. But in 2014, we are going to see social video demanding a far larger share of the marketing pie. This will be fed by the launch of Facebook's new video ad platform, while Twitter will also play a big part in 2014," said Wood.
ABOUT THE AUTHOR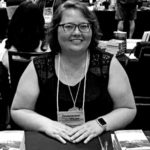 Kristina Knight is a freelance writer based in Ohio, United States. She began her career in radio and television broadcasting, focusing her energies on health and business reporting. After six years in the industry, Kristina branched out on her own. Since 2001, her articles have appeared in Family Delegate, Credit Union Business, FaithandValues.com and with Threshold Media.