Top 3 tips for retailers through 2013 holidays
Kristina: What trends are you seeing in the ecommerce space?
Norman Fong, CEO and Co-Founder, BuyVia: More of the same via tablets, although smartphone sales are only slowly going up.
Kristina: How important is social, specifically Facebook, for etailers this holiday season?
Norman: Facebook is very important. The targeting they provide lets stores fine tune who they show ads to. Facebook's mobile ad component is great for targeting people in the field.
Kristina: The big 'rush' begins Black Friday/Cyber Monday – in your opinion are brands ready for the number of people who could be hitting their online storefronts?
Norman: Yes, with more and more Black Friday sales made online, especially on Thanksgiving, stores are ready. There is no need to make people work on Thanksgiving to make the sale.
Kristina: Deals, according to a recent Harris poll, will keep shoppers checking email/mobile sites even as they are in-store. Can geo-local targeting/geo-fencing help brands engage as consumers are checking things off their lists?
Norman: Yes, stores can target users right near their stores or inside them with specific promos. There is no better way to close the sale other than having good sales people.
Kristina: What are your top 3 tips for retailers this holiday season?
Norman: Start promotions early. Even Before Thanksgiving
Embrace showrooming. Match prices, offer better service
Take advantage of mobile marketing, ads, Facebook, mobile apps, etc
ABOUT THE AUTHOR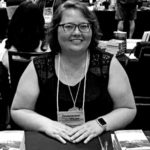 Kristina Knight is a freelance writer based in Ohio, United States. She began her career in radio and television broadcasting, focusing her energies on health and business reporting. After six years in the industry, Kristina branched out on her own. Since 2001, her articles have appeared in Family Delegate, Credit Union Business, FaithandValues.com and with Threshold Media.