Millennials share sarcasm, not brands, when supermarket shopping
Millennials, usually defined as those born in the 80's onwards, are the largest generation in American history. Their use of digital and social media is totally different from generations before them.
But there's one thing this huge, and diverse, generation appear to agree on. Supermarket shopping sucks. That is, unless something amusing happens such as someone slipping up in the veggie aisle or a fresh fish with a silly expression on its face in the seafood section.
Such are the findings of new research from digital agency 360i. After analyzing mobile conversations happening in supermarkets they found that Millennials, despite their disdain of supermarket shopping, were one of the demographics "most likely to express themselves in social media while in this environment".
However, they aren't sharing brands, or even talking about them. On the whole, their negative or sarcastic conversations revolve around the banality of supermarket shopping, commenting on other shoppers' behavior and how it annoys them, or bemoaning the time taken by their mothers to complete the task.
"Of the conversations we studied, only 3% mentioned a brand name. Moreover, less than 10% of all conversations sampled shared a picture," reveals 360i. "This is a clear indication that Millennials prefer to share their grocery shopping experiences in words, not images."
When Millennials did share images it was only when something interesting or out of the ordinary attracted their attention – such as the fish with a silly expression on the seafood counter, or perhaps a Women of Walmart-type shopper. Brands should take note of this behavior and provide opportunities for photo-sharing, perhaps via engagement on packaging or aisle and store-wide promotions.
"Millennials are more likely to be annoyed and stressed than they are to be happy. Of the emotions expressed, about a third of the Millennials were annoyed or stressed in the grocery store," says 369i. "However, 24% were amused, which reveals a potential opportunity for marketers to tap into by finding ways to make shopping more fun and playful."
360i's report also provides brand marketers with ideas on how to engage Millennials in the supermarket environment including a strong, mobile-focused digital strategy and not mentioning that dreaded chore – grocery shopping – but instead focusing on "social and experiential" aspects.
ABOUT THE AUTHOR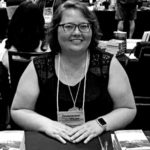 Kristina Knight is a freelance writer with more than 15 years of experience writing on varied topics. Kristina's focus for the past 10 years has been the small business, online marketing, and banking sectors, however, she keeps things interesting by writing about her experiences as an adoptive mom, parenting, and education issues. Kristina's work has appeared with BizReport.com, NBC News, Soaps.com, DisasterNewsNetwork, and many more publications.