Report: Returns could cost retailers $2.9b
According to a new BuyVia survey nearly half (40%) of shoppers will 'showroom' before they buy this holiday season. Another 79% say they shop the same stores whether online or offline. Other interesting findings include:
• 44% of respondents spend at least 30 minutes researching a product prior to buying
• 81% prefer to research via mobile browsers or tablet apps
• 25% said they would do between half and three-quarters of their shopping online
"Given the behavioral shopping shift to scouring the web for reputable sellers, shopping and coupon sites, it's no surprise that consumers are more inclined to research via their web browsers," said Norman Fong, Co-Founder and CEO of BuyVia.
All is not rosy in retail-land, though. Data out from the National Retail Federation indicates return fraud could cost retailers nearly $3 billion over the 2012 holiday season. Of those polled, nearly 20% say they've experienced e-receipt return fraud while most (86%) say they allow shoppers to return online purchases in-store. Nearly 4% of those returns are believed to be fraudulent.
"Return fraud comes in a variety of forms and continues to present challenges for retailers trying to grapple with the sophisticated methods criminals are using to rip off retailers," said NRF Vice President of Loss Prevention Rich Mellor. "Even more troubling is the fact that innocent consumers often suffer because companies have to look for ways to prevent and detect all types of crime and fraud in their stores, oftentimes resorting to shorter return windows and limitations on the types of products that can be returned."
Fraudsters are expected to return stolen merchandise, use counterfeited receipts or return used items to stores. Over the entire year nearly $9 billion could be lost due to return fraud.
ABOUT THE AUTHOR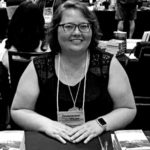 Kristina Knight is a freelance writer based in Ohio, United States. She began her career in radio and television broadcasting, focusing her energies on health and business reporting. After six years in the industry, Kristina branched out on her own. Since 2001, her articles have appeared in Family Delegate, Credit Union Business, FaithandValues.com and with Threshold Media.