What an e-reader looks like
Those who won't buy an actual e-reader for Valentine's Day will likely buy gift cards for subscription content and books for those devices. So, what does an e-reader look like and how can you, the etailer, attract them?
BlueKai has released a new infographic on e-readers – who's buying and what that means for this holiday. While many Kindle Fire's and iPads were found under Christmas trees in December, some will still be handed out over Valentine's Day. And those not gifting e-readers will likely indulge in a few extra gift cards for those readers on their lists.
So what does an e-reader buyer look like? Most (80-89%) are gift card buyers, more than three-quarters are likely to own iPods, be country club members and have household incomes of more than $150,000 per year. They also drink energy drinks and coffee, travel internationally and are interested in savings and investment.
What's more, for advertisers, e-readers may be the next ad platform they need. E-readers already have a 9% penetration in the US marketplace and by year's end a 12% penetration rate is expected. Added to that e-reader owners are already reading subscription content in the form of newspaper and magazines and some newer versions, like those from Amazon, have a cheaper price-tag because they host 'special offers' – ads.
ABOUT THE AUTHOR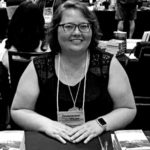 Kristina Knight is a freelance writer with more than 15 years of experience writing on varied topics. Kristina's focus for the past 10 years has been the small business, online marketing, and banking sectors, however, she keeps things interesting by writing about her experiences as an adoptive mom, parenting, and education issues. Kristina's work has appeared with BizReport.com, NBC News, Soaps.com, DisasterNewsNetwork, and many more publications.