360i releases Mobile Playbook
The Mobile Marketing Playbook can be downloaded here and includes some best practices, actual mobile campaign examples and helpful tips from around the world of mobile marketing. Experts from eMarketer, Dentsu, Bravo and more offer information of SMS advertising, applications, m-commerce and mobile shopping.
I had the chance to chat with David Berkowitz, Senior Director of Emerging Media and Innovation with 360i about the mobile marketplace. David expects to see more SMS and MMS related ad platforms to be launched in the coming months. Read on for more details.
Kristina: "What trends are you seeing in mobile right now?"
David: "There are several mobile trends that matter right now. The biggest one is the shift from feature phones to smartphones. Nielsen projects that roughly half of US mobile users will have smartphones by Q3 2011, and then there's no turning back. Remember how pervasive online media became once broadband adoption reached critical mass and dial-up started to fade? Smartphones provide access to mobile broadband, and that will be coupled in 2011 with carriers shifting from the passable 3G networks to the much faster 4G networks. Every other trend piggybacks on the smartphone shift, including the rapid adoption and massive consumption of mobile social media, the emerging viability of barcodes, and the increased usage of mobile devices at various stages of the shopping process."
Kristina: "What are brands doing right in the mobile space?"
David: "Some brands have been doing a phenomenal job with mobile marketing. Consider Kraft's successful iFood Assistant application, which has been regularly updated over the years to provide more value for consumers. Target has been very innovative, with the widest rollout of barcode-based couponing of any retailer. Many fashion brands such as Polo Ralph Lauren have used mobile to provide innovative, interactive experiences with their products and stores. Most brands can still be doing so much more to fulfill consumers' needs, whether that's around product information, making it easier to shop and transact, offering a way to entertain and have fun, and allowing people to connect with others. There are countless untapped opportunities, but brands are starting to move much faster now."
Kristina: "Mobile has been shown to deliver more engaged users to destinations – mobile websites or brick-and-mortar stores, what do brands need to have in place to convert those engaged users to buying consumers?"
David: "Brands need to make it easier for consumers to transact. That can mean different things for different brands, but it often includes detailed pricing information, product descriptions, multimedia showcasing products, customer reviews, store locations with inventory updates, and a process involving as few clicks as possible. Brick and mortar retailers need to be especially vigilant, as it's so easy for consumers to search for or scan products and find competitors with more compelling offers. These stores need to have a strong mobile presence to hold on to these customers, whether in the physical or digital environment."
ABOUT THE AUTHOR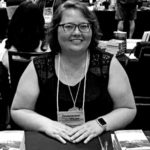 Kristina Knight is a freelance writer with more than 15 years of experience writing on varied topics. Kristina's focus for the past 10 years has been the small business, online marketing, and banking sectors, however, she keeps things interesting by writing about her experiences as an adoptive mom, parenting, and education issues. Kristina's work has appeared with BizReport.com, NBC News, Soaps.com, DisasterNewsNetwork, and many more publications.