Virgin America adds Klout to Twitter marketing
When Virgin America recently added Toronto to their list of destinations they needed to get some buzz going online. They turned to Twitter, in particular those users who were key influencers in the Canadian city.
To implement the promotion, Virgin America partnered with Klout, an analytics service that tracks users' influence on Twitter. By analyzing variables such as a Twitter user's quality and number of followers and Retweets, Klout was able to identify key influencers in the new destination city, Toronto.
"Once we looked at those factors we went through and hand picked influencers that best fit with Virgin America's brand and goals for this program," says Megan Berry on Klout's blog.
"Influencers were sent an email informing them of their eligibility and directing them to a landing page where they could get more information about the program and sign in to collect their code."
Those influencers were offered a free round-trip airfare (Wi-Fi included) between Toronto and San Francisco or Los Angeles to be taken between June 23 and August 23. The same users were also invited to Virgin America's Toronto Launch Event on June 29.
The catch? There isn't one. Accepting the offer does not hold an influencer liable to undertake any promotion or other actions and, if they do chose to relate their experience, they are encouraged to write their exact observations – good or bad.
Of course, Virgin America is hoping the users will oblige with a review, but there is no expectation. This would appear to get them around the FTC requirement that influencers disclose any relationship or reward in return for their endorsement.
In fact, as Klout states in its 'Influencer Code of Ethics', "We do not want to 'buy' your Tweets. You are receiving the product because you are influential and have authority on topics related to the topics. This is a more targeted form of receiving a sample while shopping at the grocery store."
As Steve Spillman at the Big Money Blog demonstrates, the promotion appears to be working as much buzz is being generated.
ABOUT THE AUTHOR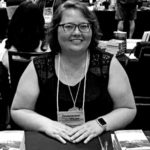 Kristina Knight is a freelance writer with more than 15 years of experience writing on varied topics. Kristina's focus for the past 10 years has been the small business, online marketing, and banking sectors, however, she keeps things interesting by writing about her experiences as an adoptive mom, parenting, and education issues. Kristina's work has appeared with BizReport.com, NBC News, Soaps.com, DisasterNewsNetwork, and many more publications.