Universal Search for Financial Services Organizations
Financial services organizations are facing enormous information challenges – especially around finding documentation that already exists in the organization. This informative web seminar will focus on how enterprises can manage their information through a universal search solution. With universal search, an organization can access all of its intranets, file shares, databases, business applications, and content management systems – all through one search box.
Learn about the benefits of universal search for financial services organizations, including:
360° view of the customer – As a financial institution, you have many touchpoints with your customers – at your branch locations, telephone support representatives and online. Instead of creating multiple silos of information, the Google Search Appliance lets you access all your customer information at once, for a true 360° view.
Timely Access to Information – As a financial institution, your investment decisions, risk decisions and customer decisions are based on timely, up-to-the-second information to provide a competitive edge. Empowering each employee with the information to make these decisions is a powerful reason why many financial institutions are turning to Google search technology.
Manage distributed information – Instead of paying high-priced consulting to integrate global information silos, your users can easily search through all their information easily with the Google Search Appliance.
ABOUT THE AUTHOR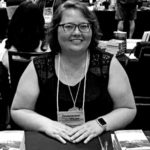 Kristina Knight is a freelance writer based in Ohio, United States. She began her career in radio and television broadcasting, focusing her energies on health and business reporting. After six years in the industry, Kristina branched out on her own. Since 2001, her articles have appeared in Family Delegate, Credit Union Business, FaithandValues.com and with Threshold Media.