Best AI Recruiting Software 2023: Top 7 Picks & Reviews
All products recommended by Bizreport are selected by our editorial team, independent of our parent company. Some of our stories include affiliate links. If you buy something through one of these links, we may earn an affiliate commission.
Zoho Recruit
Best Overall
Turing
Most Affordable
Arya
Most Flexible
The best AI recruiting software is out there waiting to help you change your hiring procedures for the better. It's amazing the options that are available for recruiting new personnel for your business. Here are 7 of the best AI softwares on the market today.
Top 7 Best AI Recruiting Software 2023
What is AI Recruiting Software?
AI is used for so many monotonous tasks these days, and recruiting isn't excluded from the opportunities AI provides. AI recruiting software uses artificial intelligence to simplify the talent acquisition process by automating certain aspects of the process like sifting through initial candidates and finding relevant candidates for interviews.
What Do AI Recruiting Tools Do?
AI recruiting tools help you streamline the hiring process. They sift through applicants to help managers spend their time vetting professionals on a deeper level. If you find yourself doing monotonous tasks as a hiring professional, tools functioning with artificial intelligence might be just the thing for you.
Benefits of Using AI Recruiting Software?
Why use recruiting software? There are many benefits to this newer system for recruiting.
Better Recruitment Process
Monotonous tasks can get in the way of hiring manager's time, and AI can help eliminate these tasks. Overall, this creates a more streamlined process.
Screening Candidates
Part of the recruitment process is screening and scheduling interviews. The screening process can be arduous and monotonous, but AI tools can find qualifications and make sure your candidates meet them.
Video Interviews
Some softwares include the ability to conduct a video interview right from their interface, and this can be extremely beneficial.
Automated Tech Assessments
Not sure if your candidates have the skills it takes for your current job descriptions? You can automate an assessment to be sure they have the knowledge for the job.
Talent Sourcing
Deep talent analytics and job pools are available through many AI recruiting platforms, and this creates a one stop shop for hiring managers to find the perfect candidate.
Scheduling Candidates
After vetting and deciding on a great candidate, you can schedule them for an interview from your AI software. You'll also be able to keep track of the appointments you've made so no one slips through the cracks.
Career Site Conversion
Want to see the numbers that back up your use of AI platforms? You can measure the conversion of candidates from career websites to potential candidates and come to a conclusion yourself.
Top 7 Best AI Recruiting Software October 2023
Zoho Recruit
Read Zoho Recruit Reviews
Our favorite feature offered by Zoho is their easy to use one-stop-shop interface. This isn't just one "feature", but it's a conglomeration of several helpful tools in one interface. Recruiting teams can see the entire hiring process from a bird's eye view, and message job candidates at a moment's notice.
Pricing starting at $30/month
Map out entire hiring process
Interview scheduling offered from their interface
Communication channels included
More options for hires from their talent pools
Offer their own ATS
Mostly good for agencies or larger businesses
Less customizable compared to other suites
Some other mentionable offerings include their low pricing, massive talent pools, and their own ATS so you don't have to use outside sources to puzzle piece together your recruitment processes. We will note that they are more streamlined and less customizable than other sites.
Turing
Read Turing Reviews
Turing's greatest quality is their laser focus on tech teams. They help connect talent management with candidate profiles in the technology world. These job candidates are experts in their field, and help your company achieve greatness.
AI technology matches talent with hiring managers
Turing will build a tech team for your needs
Speedy role filling (4 days)
97% retention or success rate
Catered towards tech experts
On top of being catered towards getting the best talent in the tech world, Turing also fills roles extremely quickly, and they have a great retention rate. On the other hand, if you need anything other than a highly qualified specialist, their services might not be for you.
Arya
Read Arya Reviews
Arya lends ease to the entire recruitment process on demand or as a subscription. We love that their AI software is available for use by small businesses or large enterprise companies as a subscription. This makes their talent acquisition services accessible to anyone who might need them. Listed below are the 4 tiers of services with different pricing you can find at Arya:
Talent for all industries
Get on-demand help or enterprise level subscriptions
4 different tiers of services and pricing available
Communications dashboard
Integrates with your ATS, but they don't offer their own
Arya's communication dashboard is another honorable mention among their helpful features. All industries are also available for searching with their talent acquisition software, and this allows for many opportunities to find the right candidate. We'd like to mention that they don't offer their own ATS, so you might need other plugins to integrate into Arya's software for this feature.
Toptal
Read Toptal Review
Toptal is known to match candidates that have the greatest potential with hiring managers. This ability to find the most suitable candidates with top qualifications is definitely their best feature. Candidate experience matches up with your needs, and Toptal makes sure your potential employees will meet the job requirements you've set forth.
Trial period offered to see if you like their services
Top 3% of talent
Payment, billing, and NDAs are handled by Toptal
Connects you to top talent
Specific to tech development needs (not for hiring teams in different industries)
Filling your open positions with candidates based on their qualifications makes Toptal a great place to start if you need to identify candidates that are top notch. They also offer a trial period so you can try out their AI capabilities and recruiting software tools with no risk. On the other hand, they offer mostly the best candidates in the tech world, so other industries might not be able to find potential candidates in their industry.
Manatal
Read Manatal Reviews
Manatal offers talent acquisition teams and job seekers an unlikely connection through their artificial intelligence scoring system easy to use interface. Our favorite feature they offer is the free trial for beginners to test out their talent intelligence platform.
14 day free trial
Customizable pipeline
Easy to use interface
Over 2,500 job boards to use
AI scoring system
Talent pipeline available on mobile and desktop
3 different plans available
Some say the onboarding process is a bit confusing
Three different recruitment software plans are available with Manatal, and they have a huge pool of job postings and they can find candidates to match any job titles you need. They have beginner friendly AI recruiting software tools, and a recruitment platform that lays out the entire recruiting pipeline.
Fetcher
Read Fetcher Reviews
Fetcher is a common recruiting platform that stands among the best AI recruiting tools. Our favorite part of their AI recruitment services is the ability to track the best candidates engagement throughout the recruiting process. More passive candidates can be passed up, and those that are bought in can be furthered along in the recruitment process. Other career sites don't allow for this helpful piece of information, but Fetcher does it well.
Uses AI recruitment software to sift through job applicants
Keep track of candidate engagement
Analyze top talent and demographics
Schedule interviews automatically
Source the best talent for your team
Platform is less customizable than some talent acquisition softwares
On top of seeing candidate engagement, Fetcher can also help you find candidates based on demographics and skills. Their machine learning and artificial intelligence sifts through candidate data and candidate experience to help you find exactly what you're looking for. They even schedule an interview for you and help you keep track of your appointments.
SeekOut
Read SeekOut Reviews
SeekOut is a super inclusive tool that helps you source talent from inside and outside your organization. We love that they allow managers to create a job description and start pre screening candidates within and outside of their agency. This helps create an inclusive environment full of opportunities.
View internal and external talent in one place
See candidate profiles in one place
Build diversity with qualified candidates
Options to train and upskill current talent
Sometimes AI powered sifting results aren't as accurate as customers would like
SeekOut's AI model is helpful and easy to use, and they also provide opportunity to train your employees and build a diversified team. Most AI recruitment tools don't take this aspect into account, and recruitment agencies would benefit from looking at talent pools internally and externally. The only drawback we see with SeekOut is that sometimes customers complain that their AI recruitment platform doesn't come up with results that are as accurate as human intelligence would since machine learning can be slow or inaccurate.
How Much Does an AI Recruiting Tool Cost?
Typically, AI tools cost anywhere from nothing to hundreds of dollars a month. Depending on your usage, needs and budget you can shop around and find the right service provider for your company.
How to Choose The Best AI Recruiting Software?
There's a method to the madness. Here are several considerations when deciding which software is right for you.
Price
First of all, you'll need to come up with a budget. How much can you afford to spend on a recruiting tool for your company?
Hiring Process
Is your hiring process simple or complex? The larger your organization gets, the more you'll need an artificial intelligence (AI) tool to help.
Ranking Automatically
If you need help with more monotonous tasks like ranking candidates, AI might be the route to take. This long process can be made simple with the help of a computer program like AI.
AI-Powered Job Descriptions
If you're posting multiple jobs on tons of different job boards, AI can help streamline the process by sending out massive amounts of job descriptions.
Real-Time Feedbacks
See who's looking at your postings with real-time updates from recruiting software. This can help you decide where your postings will get the most traffic in the future.
Interactive Chatbot Interviews
Another awesome option in the screening process is using chatbots to gauge candidate engagement through interviews via chat.
Critical Insights Into a Candidate's Data
By applying for your position, candidates will provide some personal and demographic data that can help you gain insight into who they are and what qualifications they have.
Qualified Candidates Performance Tracking
Track candidates over your recruiting pipeline by gauging their engagement and skills, all in one place through AI platforms.
Final Thoughts
AI might get a bad reputation because it doesn't produce natural language processing, and it might not be the same as a personal interaction. However, there are so many benefits to using this tool in the recruitment journey. The right candidate is out there, but you might not find them without the help of AI recruiting tools.
Frequently Asked Questions (FAQs)
What is the candidate re engagement process?
If you've had candidates apply to positions you've posted in the past, you can reach out to them for other roles via candidate re engagement processes.

What's the best way to use AI recruitment software?
AI recruitment software is most helpful for sifting through candidates and finding skills or experiences that you need for an open position.

How large should a business be to use AI recruitment software?
Any business that has a dedicated hiring team might benefit from using this software to lighten the load and streamline processes.

What is the best AI recruitment tool?
It's up to you to decide which AI tool will help your business the most. Depending on your budget, company resources and needs, one might be better than the others.

What is AI recruiting software?
This type of software uses "artificial intelligence" to sort through candidates and find ones that stand out. It can also chat with candidates and ask vetting questions.

ABOUT THE AUTHOR
Brenna is a finance editor who enjoys writing about entrepreneurial opportunities and personal finance tips. She graduated from Liberty University with a bachelor's degree in business and now helps small businesses market their products as a digital marketing consultant.
ABOUT THE REVIEWER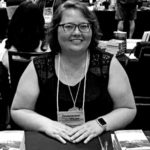 Kristina Knight is a freelance writer with more than 15 years of experience writing on varied topics. Kristina's focus for the past 10 years has been the small business, online marketing, and banking sectors, however, she keeps things interesting by writing about her experiences as an adoptive mom, parenting, and education issues. Kristina's work has appeared with BizReport.com, NBC News, Soaps.com, DisasterNewsNetwork, and many more publications.
+ 7 sources
Bizreport Advisor adheres to strict editorial integrity standards avoids using tertiary references. We have strict sourcing guidelines and rely on peer-reviewed studies, academic research. To ensure the accuracy of articles in Bizreport, you can read more about the editorial process here.
One stop recruitment solution | Talent Acquisition Software – Zoho Recruit. Zoho. Accessed February 5, 2023. https://www.zoho.com/recruit
Turing – Hire Remote Developers | Top 1% of 2 Million+ software engineers. www.turing.com. Accessed February 5, 2023. https://www.turing.com/
Home. Leoforce. Accessed February 5, 2023. https://leoforce.com/
Toptal – Hire Freelance Talent from the Top 3%. www.toptal.com. Accessed February 5, 2023. https://www.toptal.com/
AI Recruitment Software | Leading Applicant Tracking System. Manatal. Accessed February 5, 2023. https://www.manatal.com/
Fetcher. Fetcher. www.fetcher.ai. Accessed February 5, 2023. https://fetcher.ai/
Grow the talent you have. Find the talent you need. SeekOut. Accessed February 5, 2023. https://www.seekout.com/