Study Finds Many Still Not Protecting Passwords
Password Protection Lagging
While it may seem like second nature not to write down passwords in a public place, there are many in the business world who continue not to follow best practice type advice. This, according to a new NordPass report which indicates that 3 in 7 companies continue to keep passwords in unprotected documents – including Plain Text, Word and Excel files.
"Over the past year, we've been talking to many different companies to find out how they dealt with passwords before adopting a password manager. The conversations revealed some interesting yet alarming insights," said Chad Hammond, a security expert, NordPass.
Other troubling insights from the report include a business that used the same password for everything, and another that admitted that prior to adopting a password management solution there were no company rules about password use.
How To Protect Passwords
Small businesses, especially, are vulnerable to password threats. According to NordPass data about 60% of SMBs will go out of business within six months of a cyber attack, and fewer than 60% are currently using a password management solution for their business.
"A password manager is a necessary tool for business security. We see that those companies that do not utilize a password manager usually use highly questionable tools, such as unencrypted documents, which is incredibly dangerous," said Hammond. "When it comes to passwords, people are fatigued. No one wants to think of a complex, lengthy password, and, even worse, remember it. It's best to generate passwords using an online or in-app generator."
More data from the study can be accessed here.
ABOUT THE AUTHOR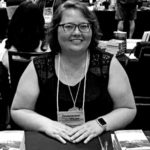 Kristina Knight is a freelance writer based in Ohio, United States. She began her career in radio and television broadcasting, focusing her energies on health and business reporting. After six years in the industry, Kristina branched out on her own. Since 2001, her articles have appeared in Family Delegate, Credit Union Business, FaithandValues.com and with Threshold Media.