Best NFT Marketplaces 2023: Top 7 Picks & Reviews
All products recommended by Bizreport are selected by our editorial team, independent of our parent company. Some of our stories include affiliate links. If you buy something through one of these links, we may earn an affiliate commission.
Crypto.com
Best Overall
Binance
Best Mystery Box Feature
OpenSea
Best for Minting
NFT Marketplaces provide a place for creatives and art connoisseurs to come together. They are quickly growing in popularity, and new NFT marketplaces are popping up all the time. We've come up with a comprehensive guide to give you 7 of the best options out there to start or continue your NFT journey.
What is an NFT?
NFT stands for "non-fungible token." This might seem confusing, but it essentially means that an NFT cannot be replicated because of their unique coding on the blockchain. The coding stands in place for a unique digital or physical asset, such as a digital art piece or song. In this way, an NFT is an investment that collectors can purchase to build their digital collectibles library. NFTs allow for one asset to be tokenized multiple times, allowing for endless NFT marketplace opportunities.
What is an NFT Marketplace?
An NFT marketplace is a unique platform where NFT tokens can be created, bought, and sold. They function as a "storefront" for NFTs. There are several NFT marketplaces that each provide different features to their users.
7 Best NFT Marketplaces 2023
Top 7 Best NFT Marketplaces December 2023
Crypto.com
Read Crypto.com Reviews
Crypto.com is an industry leader in the realm of NFT assets at this point in time, mainly because users don't pay any fees to buy and sell NFTs with their system. Beginner NFT traders can enter the market confidently with Crypto.com, knowing that their user-friendly system doesn't charge hidden or unnecessary fees when they make their first NFT purchase.
No fees for purchasing NFTs
Very beginner friendly
Visual experience
Geared toward NTF investors
Many payment methods are supported including debit and credit cards
Opportunity for bidding or set prices
72 hours to create a newly minted NFT
Not the best track record as far as security
Crypto.com's NFT marketplace just came on the scene in 2021, and all things considered, they have really shown themselves to be a great place to buy NFTs. They are a widely known and generally trusted name in the world of crypto trading, and they've taken full advantage of this audience to build their NFT marketplace. On top of being easy to use and super low cost for traders, Crypto.com offers bidding or set pricing (like eBay) and they also offer users several super convenient ways to purchase their NFTs. On the other hand, their system isn't geared toward NFT digital creators. It takes 72 hours for Crypto.com to approve a newly minted NFT, and this impedes some designers' processes. Crypto.com also had a huge scandal in 2022 where hackers stole over $30 million of their crypto. Obviously, this is a different marketplace, but this has certainly diminished the trust of some investors.
Binance
Read Binance Reviews
Part of the pull of NFTs is the excitement of building your collection of digital assets. Binance offers a mystery box feature that users love, giving some anonymity and excitement to their NFT offerings.
Mystery box feature to get a unique surprise NFT
No trading fees and rebates on gas fees
NFT staking program
1% fee to trade NFTs
No charge to list your NFTs
Impressive liquidity stats
Low royalties for NFT creators
Limited payment options
Binance entered the NFT marketplace scene in 2021, and they came out swinging. They've had an impressive crypto marketplace for a while, and they integrated their NFT offerings with their crypto wallet features to allow NFT purchases with crypto wallets. This can be a bit more cumbersome than just allowing debit or credit purchases, but it allows for easy integration with the Binance crypto offerings. You can list your NFTs for free, and their process is pretty user-friendly, but creators don't receive a high payment for their work. We also love that Binance offers incredibly liquid assets, allowing for the quick sale of your assets if need be. Overall, the Binance NFT marketplace is one of the best out there, and customers are happy with their experience.
OpenSea
Read OpenSea Reviews
We love OpenSea's platform for its endless possibilities for creating and selling NFTs. For NFT artists and entrepreneurs, this platform provides a great cut of profit for your NFT sales and an easy-to-use minting process.
An easy marketplace where creators sell NFTs
Educational materials available
Receive up to 10% of the profit when you sell nonfungible tokens
Crypto payment accepted in many forms
2.5% cut of every sale
Buyers can be easily scammed
Customer trust has been breached before
OpenSea boasts of being the largest and first NFT marketplace, and its customer experience is unlike other marketplaces. They allow for customer autonomy and much flexibility within the world of NFT trading. This isn't the easiest process for newbies, but it's a great place for more experienced investors to try their hand at NFT collection. On the other hand, since the selling features are awesome, scammers target OpenSea to plagiarize other artists' digital art projects. Since they do focus on allowing artists to sell, OpenSea has the opportunity to engage with their educational content before you dive right in. This is an excellent feature that gives traders the content they need to succeed in the NFT marketplace. OpenSea's fees are generally low, and they allow customers to purchase rare digital artwork with crypto. We like their platform, especially for digital creators, but overall it has a large selection and a seamless process.
Rarible
Read Rarible Reviews
We love Rarible's lazy minting feature, which allows NFT creators to make digital art and sell it without paying minting fees. Essentially it postpones the minting process until an NFT is purchased, cutting down on fees.
Ethereum blockchain as well as other blockchain options for lower fees
"Lazy minting" offers lower minting fees
Their digital wallet conglomerates up to 20 crypto wallets
Fewer scams with verified users
Buy NFTs with a credit card
5-10% royalty fee for selling digital art
Bid and set price option for NFT sales
Fees to buy crypto can be high
Rarible was started in Moscow in 2020, and it has been a leader in the NFT marketplace ever since. They offer customizable royalty fees, multiple blockchains to cut down on expenses present with Ethereum, and easy purchase options with credit card features. Their verified user feature allows for trustworthiness in the NFT marketplace, and creators can also set a price or allow for bids on their digital art. We will point out that in order to buy crypto to purchase NFTs, the fees can be quite high. Overall, Rarible has an impressive NFT marketplace and an easy user experience for beginner NFT traders.
SuperRare
Read SuperRare Reviews
SuperRare is best for an art gallery-styled NFT platform. They cater to those with an eye for beauty, and they include higher prices and more prestigious artists to add to the art gallery feel.
Art gallery style NFT marketplace
Integrates with your existing crypto wallet
A great place to find rare digital artwork
Artists are heavily vetted to prevent fraudulent NFT art
All transactions happen with their blockchain to ensure historical NFT data
High 3% trading fee
More expensive prices on their digital collectibles
SuperRare was one of the first NFT marketplaces that were founded (in 2017), and it definitely provides a top-notch experience for both artists and art lovers alike. We love SuperRare for their trustworthy system. They conduct their business within their own blockchain, allowing for historical NFT data and visibility. They are more expensive than most NFT platforms, but this trustworthiness and exclusivity are what you're paying for. Your crypto wallet will integrate seamlessly into their system to purchase new NFTs, and most users say that the process is easy from start to finish. It's evident that SuperRare is all about their customer experience, helping their traders feel like royalty as they peruse and purchase heavily vetted artists' digital assets.
Nifty Gateway
Read Nifty Gateway Reviews
If you like limited edition sneakers, Nifty Gateway might be the NFT marketplace for you. Most NFT marketplaces offer many different digital assets, which can be overwhelming and possibly fraudulent for buyers. Nifty prevent this hassle with their exclusive digital collectible "drops."
Geared towards more experienced NFT art collectors
Accepts credit and debit payments
Option for lower gas fees even with Ethereum blockchain exclusivity
Purchase NFTs from well-known makers
Only supports one wallet and one blockchain
Nifty Gateway has been around since 2018, and it's now owned by Gemini. It's a well-known NFT network choked full of more exclusive digital art pieces. Nifty definitely has cornered the market on well-known NFT producers (think Starbucks), and their prices and listings reflect this. Nifty is more of a club for art consumers looking for something with credentials, and less of a newbie NFT marketplace. Nifty reminds us of a fashion community, perusing and purchasing exclusive limited edition "drops," from well-known designers. Customers have the opportunity to use many forms of payment, but Nifty only integrates with one crypto wallet, and they solely operate on the Ethereum blockchain. We love that Nifty protects its more exclusive feel by only offering drops occasionally, instead of providing endless options of sub-par NFTs like other NFT marketplaces.
Foundation
Read Foundation Review
Foundation is the best NFT platform for building hype. Creators have the opportunity to join an exclusive community of digital artists to promote their art amongst NFT connoisseurs.
Foundation's auctions help creators to gain popularity and hype
Creators receive 95% of their first sales prices, and 10% of secondary sales
The exclusive nature of Foundation requires an artist referral to sell your digital assets
5% trading fee
Purchases can only be made with Ethereum
Foundation is newer in the world of NFT marketplaces; they came on the scene in 2020. They provide a more exclusive platform for consumers. Only accepting more experienced artists that receive a recommendation from their current artists allows Foundation to keep their marketplace scam free. Creators do receive a good cut of their sale prices, and we appreciate the care with which Foundation created their process. Their auction process has helped artists to create hype around their art, and get a pretty penny from NFT traders. Since Foundation hones in on their mission to display more exclusive art, they only operate on the Ethereum blockchain, and purchases must be made with Ethereum. However, they do support major crypto wallets to integrate into their NFT marketplace.
How Do NFT Marketplaces Work?
NFT marketplaces include several key deliverables that they provide to NFT creators and consumers.
Buying NFTs
As with any marketplace, the buy and sell process is essential. NFT marketplaces must provide a place for consumers to browse and purchase an NFT, whether it's audio files, digital art, or even gaming NFTs.
Selling NFTs
In order to buy an NFT, there has to be a seller. Digital creators list their work on the marketplace and wait for consumers to start purchasing their new offerings.
Minting NFTs
An NFT marketplace must also offer the opportunity for NFT minting, or creation, on their NFT platform. This process includes making a unique identity for the new NFT using blockchain technology on whatever blockchain is utilized by the NFT market.
Different Types of NFT Marketplace
There are several types of NFTs and marketplaces offered on different platforms; here are a few of the most common.
NFT Digital Art
Any popular NFT marketplace will typically offer the buying and selling of digital art pieces, in the form of video and photo files. Digital art is typically found in the form of art, music, photography, or graphic design.
Solana NFT
Solana is a blockchain that supports NFT minting. It offers inexpensive minting, giving the more popular Ethereum blockchain a run for its money.
BNB NFT
BNB is the Binance NFT marketplace blockchain, one of the top NFT marketplaces for digital asset liquidity.
NFT Music
Purchasing an NFT in the form of music is similar to purchasing a digital art file, except in audio form. They function the same way as an art file, and they have a unique identifier on the blockchain.
Tezos NFT
Tezos is another blockchain where creators can mint their NFTs, but it also includes a cheaper and more energy-efficient way to mint, cutting costs for creators.
Algorand NFT
Algorand is another blockchain in competition with Ethereum, and it also includes lower prices and energy needed for minting.
Ethereum NFT
Ethereum is currently the most popular blockchain for minting NFT. However, the energy required to mint on Ethereum is causing creators to look to other blockchains for their NFT creation.
How Do NFT Marketplaces Earn Money?
NFT marketplaces typically take a cut of each sale made on their platform, some more than others. This income helps them provide a secure platform for NFT trading, support for their customers, and other features.
How to Choose The Best NFT Marketplace?
You should consider your unique needs and experiences when searching for the right NFT marketplace. Are you into more exclusive art? Have you traded NFTs before? These questions will help you hone in on the best NFT marketplace for your situation.
Final Thoughts
NFTs are gaining more and more popularity. They haven't been around for long, but their future is bright. More and more marketplaces are popping up, and it can become hard to decide which marketplace you should use to list and buy NFTs. We hope this guide gives you a better idea of each marketplace's strengths and weaknesses, so you can make an informed decision on which marketplace to use.
Frequently Asked Questions (FAQs)
What Is Minting?
NFT minting is the process of tokenizing a new NFT. It includes using blockchain technology to make a new block on the blockchain, establishing unique NFT identifiers and NFT ownership, and closing the new block.
Which NFT marketplace is best for beginners?
Crypto.com is the top NFT marketplace for beginners. They offer a simple process to sign up, low fees, and an easy-to-use interface.
Where can I buy NFTs?
NFT collectors can purchase NFTs on any NFT marketplace. Some of the largest NFT marketplaces include Crypto.com, Binance, and OpenSea. There are also options to purchase your NFTs through a community-owned NFT marketplace like the Rarible NFT marketplace.
What is an NFT?
An NFT is a non-fungible token, meaning a unique form of art that cannot be traded for another of its kind. Each NFT has a unique coding on a blockchain, and its price fluctuates based on many factors like creator, pricing history, and type of art.
Should I buy crypto or an NFT?
Crypto is a more trusted form of investing because it is "fungible," or tradeable for one of its kind. NFTs are more up-and-coming, and since they come with more risk and less trust, might have more opportunity for price growth in the future.
ABOUT THE AUTHOR
Brenna is a finance editor who enjoys writing about entrepreneurial opportunities and personal finance tips. She graduated from Liberty University with a bachelor's degree in business and now helps small businesses market their products as a digital marketing consultant.
ABOUT THE REVIEWER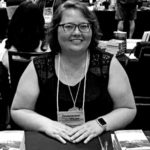 Kristina Knight is a freelance writer with more than 15 years of experience writing on varied topics. Kristina's focus for the past 10 years has been the small business, online marketing, and banking sectors, however, she keeps things interesting by writing about her experiences as an adoptive mom, parenting, and education issues. Kristina's work has appeared with BizReport.com, NBC News, Soaps.com, DisasterNewsNetwork, and many more publications.
+ 5 sources
Bizreport Advisor adheres to strict editorial integrity standards avoids using tertiary references. We have strict sourcing guidelines and rely on peer-reviewed studies, academic research. To ensure the accuracy of articles in Bizreport, you can read more about the editorial process here.
Office USGA. Science & Tech Spotlight: Non-Fungible Tokens (NFTs). www.gao.gov. Accessed March 14, 2023. https://www.gao.gov/products/gao-22-105990

Non-Fungible Tokens (NFTs). congress.gov. Published July 20, 2022. Accessed March 14, 2023. https://crsreports.congress.gov/product/pdf/R/R47189

Former Employee Of NFT Marketplace Charged In First Ever Digital Asset Insider Trading Scheme. www.justice.gov. Published June 1, 2022. Accessed March 14, 2023. https://www.justice.gov/usao-sdny/pr/former-employee-nft-marketplace-charged-first-ever-digital-asset-insider-trading-scheme

Blockchain.; 2022. Accessed March 14, 2023. https://www.gao.gov/assets/gao-22-104625.pdf

Binance NFT | Marketplace for NFTs and Mystery Boxes. Binance.com. Published 2021. Accessed March 14, 2023. https://www.binance.com/en/nft/home