Best Crypto News Apps 2023: Top 7 Picks & Reviews
All products recommended by Bizreport are selected by our editorial team, independent of our parent company. Some of our stories include affiliate links. If you buy something through one of these links, we may earn an affiliate commission.
CoinStats
Best Overall
Crypto News
Best news aggregator
CoinGecko
Best for fundamental analysis
Like most financial markets, the cryptocurrency market is saturated and volatile. One needs to stay updated to grab the best opportunities and make informed decisions. Mobile apps have become the source of real-time updates on all the developments in the crypto world, as print media are becoming obsolete. These apps offer quick access to digital assets, buying and selling options, and the most recent market news for traders of all experience levels. You can avoid missing out on lucrative opportunities by having a reliable cryptocurrency news app on your device. In this article, we'll explore the best cryptocurrency news apps that keep you informed on the go. 
7 Best Cryptocurrency News Apps 2023
Top 7 Best Cryptocurrency News Apps December 2023
CoinStats
Read CoinStats Reviews
CoinStats is a well-known cryptocurrency manager and DeFi wallet that lets you buy, trade, and earn on all your cryptocurrency holdings from one place. It is compatible with most wallets and exchanges available on the market. With over 1.2 million monthly active users and managing over $500 billion worth of cryptocurrency via the app, CoinStats aims to be the leading platform for cryptocurrency and DeFi. Additionally, CoinStats has a news aggregator that pulls news from over 30 sources and offers hand-picked news as well as trending news determined by user voting.
Powerful portfolio tracker
Track prices of over 1800 cryptocurrencies
Latest crypto news
Connect your account to exchanges and wallets
The free version lacks several features
Dashboard not user-friendly
The CoinStats portfolio manager is available on several platforms, making it a very competitive news app. Coinstats has a desktop version and a mobile application, and it can be used on desktop browsers, browser extensions, and Android and iOS smartphones. The mobile application makes it easier to manage your portfolio on the go.
CoinStats offers two types of accounts: Basic and Premium. The Basic account is free and allows users to connect up to 10 portfolios to their CoinStats account and track up to 1,000 transactions per month. The Premium account, which costs $9.99 per month if purchased annually or $15.99 if paid monthly, is designed for serious crypto investors. Premium account holders can connect an unlimited number of portfolios and track up to one million transactions per month. However, Coinstats does not have as many supported exchanges and wallets as some other news apps.
Crypto News
Read Crypto News Reviews
Crypto News is one of the best cryptocurrency news apps for anyone looking for the most recent cryptocurrency news. It has a market-tracking tool as well as a news aggregator that lets you access all the news around the crypto space. The app also features a portfolio manager that makes it simple to monitor the performance of digital assets. One crucial feature of the app is its integration with CoinMarketCap, which lets you monitor market trends.
Aggregated news and articles
Contents are usually selected manually by editors
Track portfolio changes
No additional market data or charting tools
The Crypto News app primarily functions as a news aggregator, collecting breaking news and articles from various popular websites. These websites include Cointelegraph, CoinDesk, Bitcoin.com, Forklog, and over 250 other sources that are frequently updated. The app's editorial policy guides the selection of content from projects that align with its guidelines. This policy ensures that all sources are verified before adding them to the news feed.
Crypto news also offers a Pro version which provides additional features. There is a 7-day free trial to enable you to evaluate the benefits of the Pro version. Some additional premium features include ad blocking, offline mode, unlimited notifications, portfolio security, and portfolio backup.
CoinGecko
Read CoinGecko Reviews
CoinGecko is a cryptocurrency news app that provides a fundamental analysis of the crypto market. You can monitor the market price, volume, and capitalization of various categories such as Non-Fungible Tokens (NFT), Decentralized Finance (DeFi), Decentralized Exchange tokens (DEX), and Exchange-based tokens. In addition, CoinGecko also tracks community growth, on-chain metrics, and open-source code development. CoinGecko provides a daily candy feature that allows users to collect and redeem rewards.
Vast options for cryptocurrencies
Ability to create a custom portfolio
Easy to navigate
You have to select your favorite coins manually
Some digital currencies are yet to be added
CoinGecko offers real-time news, prices, charts, and market cap information. As a must-have cryptocurrency data aggregator, it allows you to track over 8,000 cryptocurrencies. CoinGecko also offers free and premium plans for users. The free plan lets you get a 360-overview of crypto markets with features that include live prices, charts, and historical data, redeem daily goodies, and sync across all devices. The premium plan lets you have an edge in the market with powerful additional features. These features include exclusive research articles, biweekly Gecko ramblings, an ad-free mobile app, a weekly roundup, CoinGecko publications, and access to a private chat group with CoinGecko's research analysts. The premium version of CoinGecko costs $41,66 per month or $499.99 per year. CoinGecko is an all-in-one crypto app for in-depth information about currencies, exchanges, derivatives markets, and other topics related to the crypto ecosystem.
CoinCodex
Read CoinCodex Review
The CoinCodex app is one of the top cryptocurrency news apps for customized notifications. It provides real-time cryptocurrency tracking for Ethereum, Bitcoin, and over 10,000 other coins with simple and easy-to-use features. With the help of line charts and candlestick charts, you can monitor price action before making informed decisions. The app also lets you create your own cryptocurrency portfolio and monitor its performance in real-time. The CoinCodex app is highly secure and ensures the safety of user data.
Outstanding features
Real-time charts and data review
Highly customizable news source
Track your crypto performance from any location
Poor social media management and promotion
Visit CoinCodex to learn about and get cryptocurrency analysis. The online platform offers a variety of useful data and tools to help you understand and manage the quickly developing world of digital assets, in addition to providing real-time pricing information for more than 6,000 cryptocurrencies. CoinCodex has a number of important features, including a live cryptocurrency price monitor, a news area that compiles information and commentary from several sources, and a thorough market data section that gives you access to a variety of measurements and indicators. The CoinCodex mobile app makes it possible for you to check what is going on with the market and your portfolio anywhere and anytime.
Crypto App
Read Crypto App Reviews
The Crypto App is a mobile application designed for managing cryptocurrency investments. You can keep tabs on the state of the market and the performance of your investments using the app. The major advantages of the Crypto App are efficiency and convenience because it combines portfolio management with a news aggregator, enabling users to access all necessary information from one platform rather than logging in to various services.
Live charts and prices
Industry-wide news for a particular cryptocurrency from top crypto publishers
Integrates with 100+ crypto exchanges and 6000+ crypto tokens
Price alerts
The basic package is limited
Glitches in the app
Crypto App is a convenient, user-friendly crypto portfolio manager that is great for beginners looking to stay updated with their investments. As the name implies, it is a mobile-only platform. The mobile app is available for download on the Appstore and PlayStore. The Crypto App is integrated with more than 300 exchanges and supports various currencies, including USD, EUR, and BTC, allowing users to convert between fiat and cryptocurrency seamlessly. Apart from the latest cryptocurrency news, you can track prices and receive real-time alerts. This app has a premium plan that costs $8.99 per month for the Pro plan or $14.99 for the Pro+ plan. There are no additional costs for using the platform or linking exchanges to your Crypto App account. Although there have been some reports of glitches in the app, it still has an overall positive review and offers a great user experience.
CoinMarketApp
Read CoinMarketApp Reviews
CoinMarketApp is a unique cryptocurrency news app that offers users simplified and quick access to nearly two thousand different cryptocurrencies. With a user base of over one million users, it is one of the most popular apps available. The app provides you with personalized alerts, portfolios, relevant crypto news, and exchange information. Additionally, the developers have included an education section where you can learn more about cryptocurrencies and blockchain technology. You can also receive push notifications for trending news stories or new coin introductions.
Custom alerts
Easy access to cryptocurrencies and news
Exchange markets
Education section
Interface not user-friendly
CoinMarketApp is a mobile application that provides easy access to information about various cryptocurrencies. As a user, you can quickly view cryptocurrency prices, market capitalization, exchange markets, coin details, charts, crypto news, and information on live, upcoming, and finished ICOs. The app offers alerts on over 1000 cryptocurrencies, including popular ones like Bitcoin, Bitcoin Cash, Ethereum, IOTA, Cardano, Stellar, Ripple, Litecoin, and many others. Additionally, CoinMarketApp now includes a portfolio feature that lets you manage your cryptocurrency investments in one place.
CryptoPanic
Read CryptoPanic Reviews
CryptoPanic is a reliable news aggregator for cryptocurrency news that gathers the latest news from trustworthy sources. The app includes a real-time news feed for Bitcoin and a free portfolio tracker. The Oasis feature on the CryptoPanic platform, which is available to enthusiasts, allows them to learn and be inspired in addition to getting the news. It also provides channels and podcasts for users to explore.
Simple user interface
Relevant news
Saves time when searching for news
Advanced features require a pro version
CryptoPanic is a trustworthy cryptocurrency news aggregator that offers many special features that make it a great choice for serious cryptocurrency traders. It is a good option for users who don't want to spend time reading all the news. CryptoPanic updates its content frequently despite being one of the oldest news aggregators in the business. One of the most appealing aspects of the platform is that it doesn't limit any of its basic features, meaning users are not forced to purchase the PRO version. CryptoPanic offers premium features through its CryptoPanic Pro subscription. The cost of a premium account with CryptoPanic is $9 per month or $99 per year, which lets you take advantage of additional benefits not available with the free app.
What is a cryptocurrency news app?
A cryptocurrency news app is a mobile application that provides users with the latest news and updates on the cryptocurrency market. These applications gather data from a range of platforms, including blogs, news websites, social media, and others. Cryptocurrency news apps let users access the latest news, market trends, and insights with ease. They are designed to help users stay informed about the latest developments in the cryptocurrency world.
What Do Crypto News Apps Do?
Crypto news apps offer a range of features, such as real-time news updates, market data, price tracking, and analysis. They also cover a variety of topics, including blockchain technology, cryptocurrency regulations, ICOs, and altcoins. Additionally, these apps can offer users personalized alerts, push notifications, and user-friendly interfaces for simple navigation. Some apps even offer portfolio management tools and live streams of conferences and events.
Why Should You Use a Crypto News App?
Using a cryptocurrency news app can help you stay informed and up-to-date on the latest developments in the cryptocurrency world. These apps offer a range of features and benefits, including real-time market data, expert analysis, and customized alerts. A cryptocurrency news app lets you read crypto news, make informed decisions, and stay ahead of the curve,
What Features Does the Best Cryptocurrency News App Include?
The best cryptocurrency news apps offer a range of features, such as:
Real-time market data and price tracking: These features provide users with real-time updates on the cryptocurrency market.
Customized alerts and notifications: These features allow users to set customized alerts and notifications based on their preferences.
In-depth analysis and expert insights: These features provide users with in-depth analysis and expert insights on the cryptocurrency market.
User-friendly interfaces for easy navigation: These features provide users with a user-friendly interface that is easy to navigate.
Access to a variety of news sources: Some apps provide users with access to a variety of news sources, including blogs, news websites, social media, and other platforms.
Live streaming conferences and events: These features allow users to watch live streams of conferences and events related to the cryptocurrency market.
Portfolio management tools: These features allow users to manage their cryptocurrency portfolios directly within the app.
Custom search URLs: Some platforms allow you to create custom search URLs for a particular cryptocurrency.
How to Choose the Best Crypto News App
When choosing the best cryptocurrency news app, it's essential to consider the app's features, reliability, and user reviews. Look for apps that provide real-time market data and price tracking, customized alerts, and expert analysis. A user-friendly interface and access to a variety of news sources are other important features to look for in an app. Reading user reviews can also help you get an idea of the app's reliability and overall user experience.
Final Thoughts
In summary, we have reviewed the best cryptocurrency news apps that can help you navigate the volatile crypto market. Each app has unique features and benefits that you should consider before downloading. It's possible to have more than one app on your device, so take the time to choose the ones that best meet your needs. We hope that this article has provided you with valuable insights that will help you make informed decisions about your future crypto investments. Keep reading and stay informed to make wise investment decisions.
Frequently Asked Questions (FAQs)
What is the best app for crypto news alerts?
There are several apps that offer excellent crypto news alerts, including CoinGecko, CryptoPanic, and CoinStats. Each of these apps allows users to set up customized alerts for specific news topics, market events, or price changes.
What is the fastest way to get crypto news?
The fastest way to get crypto news is through a news aggregator app, such as CryptoPanic, Blockfolio, or CoinMarketCap. These apps pull in breaking news and updates from multiple sources, allowing users to stay informed in real-time.
What is the most reliable crypto news?
There are many reliable sources for crypto news, including mainstream publications such as Forbes, CNBC, and Bloomberg, as well as crypto-specific sources such as Coindesk, Cointelegraph, and The Block. It's important to read from a variety of sources to get a well-rounded view of the market.
Are cryptocurrency news apps secure?
Most reputable cryptocurrency news apps are secure and take measures to protect user data and privacy. However, it's important to research any app before downloading and using it to ensure that it's safe and trustworthy.
Are cryptocurrency news apps free?
Most cryptocurrency news apps are free, but they may offer a pro plan with additional features that require a subscription fee.
What app offers stock trading with crypto news?
StockTwits is a stock trading and analysis app that also offers news about everything you need to know about cryptocurrency. Although the app used to be for only stock trading, it now tracks cryptocurrency prices too, making it a favorite among many investors.
Can I track my portfolio with a cryptocurrency news app?
Yes, some cryptocurrency news apps provide portfolio tracking capabilities that let users keep track of the performance of their investments along with the most recent news and market trends.
Are there any risks associated with using cryptocurrency news apps?
Using cryptocurrency news apps carries some risks, just like using any app, such as the possibility of data breaches or security flaws. It's important to research any app before downloading and using it and to protect your personal and financial information.
ABOUT THE AUTHOR
Hannah is a seasoned writer based out of Pennsylvania. With years of experience in various writing niches, she provides SEO and on-demand content for Businesses in all industries
ABOUT THE REVIEWER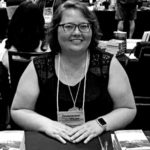 Kristina Knight is a freelance writer with more than 15 years of experience writing on varied topics. Kristina's focus for the past 10 years has been the small business, online marketing, and banking sectors, however, she keeps things interesting by writing about her experiences as an adoptive mom, parenting, and education issues. Kristina's work has appeared with BizReport.com, NBC News, Soaps.com, DisasterNewsNetwork, and many more publications.
+ 5 sources
Bizreport Advisor adheres to strict editorial integrity standards avoids using tertiary references. We have strict sourcing guidelines and rely on peer-reviewed studies, academic research. To ensure the accuracy of articles in Bizreport, you can read more about the editorial process here.
Digital Assets | Internal Revenue Service. www.irs.gov. Accessed March 27, 2023. https://www.irs.gov/businesses/small-businesses-self-employed/digital-assets

Options | Investor.gov. www.investor.gov. Accessed March 27, 2023. https://www.investor.gov/introduction-investing/investing-basics/glossary/options

Crypto Assets | Investor.gov. www.investor.gov. Accessed March 27, 2023. https://www.investor.gov/additional-resources/spotlight/crypto-assets

Cryptocurrency Prices | Crypto Portfolio Tracker | Coin Stats. Coinstats.app. Published 2010. Accessed March 27, 2023. https://coinstats.app/

World news about cryptocurrency and blockchain technology from different sources. cryptonews.net. Accessed March 27, 2023. https://cryptonews.net/