Study finds digital ad spend to outpace traditional
Advertising budgets are expected to grow at least 9% over the next three years.
Over the next three years the digital ad spend will outpace traditional outlets. That is a key finding from Zenith's new ad forecast which predicts a 9% increase in global ad spending in 2022. According to the report the digital spend will account for at least 60% of the global as spend this year.
In 2022 the global ad spend is expected to reach $705 billion. The ever-increasing interest in online shopping will fuel much of the digital spend growth as businesses try to reach consumers who are shopping more online than in stores. Breaking down the spend, social media advertising is expected to lead overall advertising growth and will likely surpass the television spend within the next three years. By 2024, experts believe social advertising will account for 26% of ad budgets, followed by paid search (22%) and television (21%).
More ad dollars going to digital as consumers spend more time online.
"As consumers rely ever more on digital technology to connect and entertain them, and to inspire and fulfil their purchases, advertising is playing a greater role in driving sales and brand growth," said Jonathan Barnard, Head of Forecasting, Zenith. "Over the next three years we expect the ad market to achieve its highest rate of sustained growth since 2000."
More data from Zenith's forecast can be accessed here.
To that end, Sprout Social's new guide offers merchants and brands three "must do" actions in the social commerce space.
First, respond to consumers' questions on social media in social media.
Second, promote only relevant posts within branded social media.
Third, offer a simple social commerce checkout experience.
ABOUT THE AUTHOR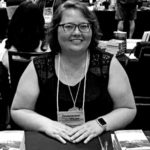 Kristina Knight is a freelance writer based in Ohio, United States. She began her career in radio and television broadcasting, focusing her energies on health and business reporting. After six years in the industry, Kristina branched out on her own. Since 2001, her articles have appeared in Family Delegate, Credit Union Business, FaithandValues.com and with Threshold Media.