Reports Indicate Strong 2022 For Merchants
Merchants Look To Experience To Engage Shoppers
Whether shopping online or shopping in physical stores, experience is key for many shoppers. For this reason, merchants firming up their 2022 strategies are keying in on a seamless transition for shoppers between in-store and online. In fact, 62% of shoppers say they are shopping more online now that pre-pandemic; about half of shoppers say they are spending more now than at the beginning of the COVID-19 pandemic.
"From our research, many of the Ecommerce trends for 2022 continue to stem from the ongoing impact of COVID-19 uncertainty and the resulting restrictions on consumer purchasing. We are seeing further increases in alternative and social-distance friendly shopping methods for example 'curbside pick-up' or BOPIS (Buy Online Pick-up In Store)," said Lucy Carney, WebsiteBuilderExperts report author. "However, the data does show that consumers are feeling more comfortable around returning to in-store shopping. With appropriate measures such as regular cleaning and mask wearing staff, 70% of consumers have stated that they're now less concerned about shopping in-store – more than double from the previous year."
Look For Increased Investment In Social Commerce
Digitally speaking there continues to be a growing increase in social commerce as consumers have become more comfortable buying from different online channels. According to the report more than half of shoppers 'are familiar' with social commerce while nearly two-thirds say they are comfortable making purchases within the social space.
"Social commerce – purchasing through social media channels – has also grown with over a third of shoppers saying they're happy to use it. Mobile browsing is still dominating in terms of overall sessions, making it more important than ever to have a mobile-friendly site," said Carney. "Lastly, as environmental concerns rise, digital consumers are also more conscious than ever of how their purchasing is impacting the planet. They're favouring recyclable packaging and green products that are easy to purchase and affordable."
Supply Chain Worries High For Merchants, Brands
According to Deloitte's 2022 Retail Outlook a growing number of retailers are already looking at ways to diminish continuing supply chain issues related to the COVID-19 pandemic, using technology and new partnerships to source items their customers need. Many are also increasing their investment of digital options, hoping to more firmly intertwine their physical and digital store experiences. Most (70%) retail executives surveyed say they will have "moderate to major" investments in digital marketing for 2022; about two-thirds (67%) say their main investment areas will be for online shopping.
Ecommerce Fraud Up
Meanwhile, researchers have noted an 18% increase in ecommerce based fraud and scams (2020 vs. 2021). These cyberattacks are effecting not only shoppers but businesses who are trying to quickly increase their security options to protect not only customer but business data from fraudsters. In fact, the pandemic has shown a sharp increase in the number of cybercrime attacks – from phishing to malware attacks.
More Shoppers Don't Want To Be Tracked
Meanwhile, a potential bug in many retailers' plans for 2022 is the targeting and data collection issue. According to new data out from the Advertising Research Foundation shoppers are equally resistant to personal data tracking and cohort data tracking. Researchers found that fewer than half of US consumers trust any business to collect or use their personal data, even when that data would potentially benefit the shopper.
"The findings of our fourth annual privacy study point to the hard truth that it may be just as difficult, if not more so, to explain the benefits of placing consumers into segments as it is to persuade them of the benefits of individual-level tracking, which throws a wrench into the idea of cohort targeting," said Paul Donato, Chief Research Officer at the ARF. "Since consumers are more trusting of institutions with which they have personal relationships, such as banks and doctors, to manage their data, it appears that advertisers that can develop strong first-party relationships with consumers will have an advantage in this privacy-centric era."
According to the study while more than half of consumers trust their financial institutions or doctors to protect their personal information fewer than 25% trust digital marketers or social media platforms to protect their data.
ABOUT THE AUTHOR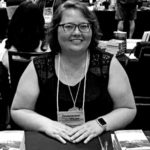 Kristina Knight is a freelance writer with more than 15 years of experience writing on varied topics. Kristina's focus for the past 10 years has been the small business, online marketing, and banking sectors, however, she keeps things interesting by writing about her experiences as an adoptive mom, parenting, and education issues. Kristina's work has appeared with BizReport.com, NBC News, Soaps.com, DisasterNewsNetwork, and many more publications.