Data Privacy Concerns Still High
Data Privacy Concerns Still High
Consumers Still Aren't Protecting Themselves From Cyber Risks
While larger numbers of consumers say they are worried about data privacy, many are still not taking the basic steps to protect their information. According to new data out from Bitdefender most consumers are still using only one or two passwords across the myriad sites they visit daily. This places those shoppers are higher risk for having their data and information stolen and/or their systems hacked.
According to the Bitdefender report about 60% of US consumers are "highly exposed" and just over one-third (35%) aren't using fraud protection or cyber security options on their mobile devices. 
Businesses Try To Increase Their Protections
This juxtaposition of expressing concerns about data privacy but then not taking measures at a personal level to ensure data isn't compromised can make data security even more harrowing for businesses, even those who have picked up the mantle of data security over the past few years.
Because, although it can seem as if businesses are slow to adopt data regulations, the fact is that businesses are adopting data strategies, but government regulations are simply moving faster.
"What I do think might be confusing is the pace has picked up on data privacy regulations, meaning that there are many more countries, regions, and legislators focused on data privacy, and many more laws and legislative guidance coming out than last year or a few years ago," said Amy Yeung, General Counsel & Chief Privacy Officer, Lotame. "So a company may have picked up the pace threefold from where they were a few years ago, but the pace of the laws applicable to data and the data commercial space has picked up 10 or 100x (really). The other consideration that isn't always obvious is business investment to react to data privacy compliance as a result of other companies' compliance with the law. If you need to audit companies you work with, chances are, they need to audit you. There's a significant multiplier effect on the work and investment, even though the output might not seem like it's anything more."
Data Footprints Are Expanding Fast
According to Yeung a big problem for many businesses is that both the consumer and business data footprints have gotten significantly larger over the past three years – primarily because COVID restrictions forced more people online for daily tasks – making it harder to know where to begin or which direction to take next when it comes to data security.
"The local, state and federal dialogue continue to form, while outside the U.S., there are countless (sometimes conflicting) laws about how data should and shouldn't be handled. Despite the many challenges businesses face in this climate, there's ample opportunity," said Yeung. "Integrating and aligning with the underlying policy goals of laws like GDPR within and outside the EU, rather than doing only "what the law requires," can maintain space to stay the business course during the fluctuating regulatory requirements. Like Lotame, many in our industry see the negative impacts of staying in a boat so close to the waves rather than buoying ourselves to a higher plane, and 2022 brings with it an opportunity for data privacy by design to effectively execute on our business roadmaps."
Top 3 Tips To Strengthen The Data Strategy
Yeung's top three tips for businesses to strengthen their data strategy are:
Use A Privacy Design Approach
"Particularly for companies with a sizable data footprint and/or data commercialization, utilizing a data privacy by design approach is essential for scale, product pivots and expansion. Businesses need persistent flexibility, particularly now, to control and redirect the ways in which data combination occurs on their platforms in a quick way, and especially in a way that won't 'break the system' or create uncertainty that the system may not work in a cutover," said Yeung.
Have A Clear Aim For Any Strategy
"Create a clear North Star for where all teams need to aim in executing on the strategy," said Yeung. "With so many moving parts within a company and in the laws, it's somewhat counterproductive to continually benchmark against the "current circumstances. From a human performance perspective, leaders must elevate the bar from "what the law requires" to where the vision is so that the cross-functional teams have time to build what the company needs today and tomorrow. Also, and it goes without saying in the COVID world, leaders need to minimize burnout, and continually asking teams to adjust to the new landscape of privacy is bound to lose momentum."
Understand Your Business Footprint
"Without [understanding], it's hard to know where your advantages and your risks are in building a strong data privacy strategy," said Yeung.
ABOUT THE AUTHOR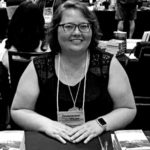 Kristina Knight is a freelance writer with more than 15 years of experience writing on varied topics. Kristina's focus for the past 10 years has been the small business, online marketing, and banking sectors, however, she keeps things interesting by writing about her experiences as an adoptive mom, parenting, and education issues. Kristina's work has appeared with BizReport.com, NBC News, Soaps.com, DisasterNewsNetwork, and many more publications.