How To Choose The Best Name For Your Business In 2023
There are many things small business owners must take care of as they get their operations running and start acquiring customers. Even though their main focus may be on the service delivery aspect, the legal and administrative side of the business shouldn't be overlooked, either. One of the most important things you'll have to do early […]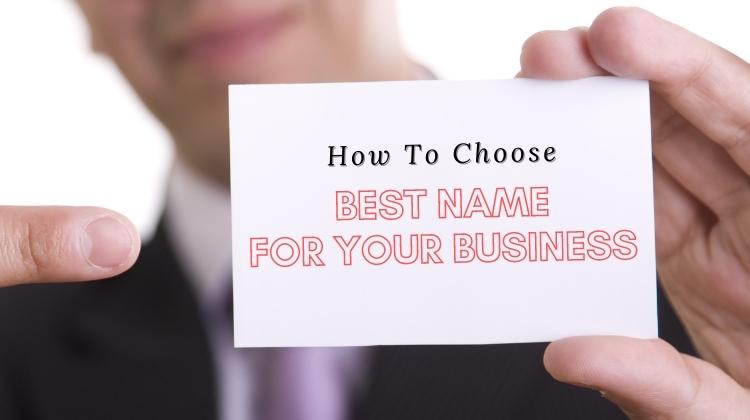 There are many things small business owners must take care of as they get their operations running and start acquiring customers. Even though their main focus may be on the service delivery aspect, the legal and administrative side of the business shouldn't be overlooked, either. One of the most important things you'll have to do early on when starting may be how to choose a business name. While this may seem simple from the outset, it can get a little complex and overwhelming to some once they get started brainstorming.
Continue reading through this guide as we describe how to go about brainstorming business name ideas in a way that's appropriate for potential customers, social media handles, search engines, domain availability, and the future growth of your organization.
What A Good Business Name Should Include
There is no correct answer for what makes a good business name. However, it's important to note that business names that are shorter and easier to remember tend to perform better than those with more complex and lengthy names.
Opt for catchy business names if you can while you're brainstorming good business names. This may include words or phrases related to the products you sell, the niche you operate in, or your target audience. The easier it is to remember, the better it will be for your business entity.
How to Name Your Business: List of Tips and Tricks
Let's go over some of the main ways you can go about crafting creative business names that could be a great match for your company.
Read List of Business Names by Bizreport
To start, you could check out the list of potential business names available on Bizreport, which has a free business name generator. You can start by entering a keyword that captures the core essence of your company, which will populate hundreds of unique business name ideas that you can choose from.
Merge Words
Another approach you may take when trying to come up with a catchy business name is to merge two or more words together. This can help you come up with a completely unique business name that will help you stand out from competitors in the space.
This is a good idea if you're facing a lot of roadblocks with the trademark office, social media handles availability, or domain availability, as you can come up with a name that varies greatly from others on the market.
Founder's Name
You can also use the founder's name when you're looking for a name for your business. Choosing a business name can be easy when taking this approach, as you don't have to put a lot of emphasis on finding a catchy business name or coming up with a business name idea that's very unique.
Instead, you will rely on the authority and positioning of the business owner, especially if they are well-known to your target audience.
Words Associated With Your Business
Businesses may brainstorm related words to their market or niche in order to choose the perfect business name. If they choose a keyword or phrase that their potential customers would search a lot, they could even gain more traffic based on their SEO ranking for online searches.
Core Values of Your Business
If you want to showcase your brand identity through your small business name, consider what the core values are of your company, and try to incorporate related words or phrasings into your name ideas.
Check Your Competitor's Name
One of the most important things to keep in mind when you're choosing a business name is to cross-check your business name ideas with the names that are already out there on the market. If your competitor has already selected the same or similar name to your desired business name, it's best to go in a different direction.
You don't want potential customers confusing your businesses with one another, which could detract from your overall business results. Plus, you could face trademark issues, problems with domain name availability, and other issues if you choose the same business name as a competitor.
Acronyms & Symbols
It can be powerful to use an acronym or symbol for a lengthy business name that you can shorten. This can help make your brand unique and different from others on the market, and acronyms are also easier to remember than other types of names.
Wordplay & Puns
Depending on the market you operate in and your branding efforts, your audience may respond well to a company name that is more playful and fun. With this, you may want to incorporate wordplay or puns for a great business name.
Foreign Words (Latin, Spanish…)
If you operate in a certain market or offer products or services to customers in a foreign language, creating name ideas with foreign words could be the way to go. You don't want to confuse your buyers, so make sure the foreign word is relevant to them and your product if you want to use it in your company name.
Spelling Error
This isn't always the right move to come up with business name ideas that will set you up for business growth. However, some businesses with the right brand identity can benefit from a name that has unusual spellings or a misspelled name. Some customers in certain niches may find this sloppy, so make sure to do your market research beforehand.
Make a New Word
Don't be afraid to invent a new word altogether if you are having trouble coming up with business name ideas that aren't already taken. If you make up a new word, chances are, it won't be used already by other businesses. So, a small business owner that is particularly creative may want to take this route.
Distinguishing Phrasing
If you're worried about having a company name that is confusingly similar to others in your space, make sure to use distinguishing phrasing that clearly sets you apart from other players in your space.
Regions
If you operate in a specific region, you may want to incorporate the city, state, county, or state into the name of your business. This can help position your business as a leader in the area, and win over customers who reside in a specific region.
Domain Name Guided
Some businesses will first start searching for business name ideas by seeing which domain names are available. This can be a good step if you don't have a solid business name that you're stuck on just yet. Having a business name and matching domain name available is very crucial, especially if you run an online business. So, this can be a worthwhile tactic.
Alliterations
Alliterations are catchy and could help customers remember your company name more easily. If your small business name stands out, it could help you be more competitive in the space, and overall, more memorable.
Emotional Effects
There is no doubt that the connotation of certain words evokes feelings in us that we can't ignore. So when you're coming up with a business name, you may want to do your research to find words that evoke the right emotional effects that you intend for your customers. In doing so, you may find that the business names you came up with during a brainstorming session do the opposite than you had hoped for, which would mean you'd want to start the process over to get it right.
Materials Related
For a business that is a manufacturer or prides itself in using certain materials, you may want to incorporate this into the name of your business. It can help distinguish your brand from others in the space and give you a unique name that fits your great brand.
Historical Cultural Meaning
You may also want to incorporate phrasing that has historical or cultural meaning. Depending on the products or services you offer and who you offer them to, you may choose a specific name that is relevant to them.
Fictional Inspired
You could also choose a name for your brand that comes from a fictionally-inspired name. So if you have a more whimsical brand and you'd like to showcase that through your business name, make sure to do so.
Fortune and Numerology
If your brand has to deal with spirituality or astrology, you may want to use fortune and numerology in your name. This can help further push the identity of your brand and what your values are.
Try for Colors, Images, Animals, and Even Fresh Produce
Many common business names today for a small business will include visual words or phrases that incorporate colors, animals, and even fruits and vegetables into the name. So while you're thinking of a potential business name, don't overlook utilizing some of these common objects that evoke positive emotions.
Onomatopoeias
Onomatopoeias are words that sound like what they are, like "boom" or "hiss". This could be a good idea for companies in the right industries, and they tend to be easier to remember as well. However, you may have a hard time finding one that isn't used already by another brand, and it could be difficult to find accompanying domain names.
Add "local" to Your Business Name
Especially for small businesses that operate in a local market, adding "local" to your name could win you a lot of business with residents. Of course, this may not be a viable tactic for all small businesses, though it could be beneficial to the right store.
Epic Words
You could also choose to use words in your business name that are extremely unique, rare, or not commonly used. This could bring distinction to your brand and set you apart from your peers.
Idioms
Idioms are regional phrases that have unique meanings attached to them that are separate from the direct meaning of the words. For instance, "it's raining cats and dogs" doesn't mean it's actually raining cats and dogs. So, if there is a related idiom to your business or market, it could be a fun way to choose a catchy small business name that's memorable.
Mistake To Avoid When Naming Your Business
Now that you're aware of some of the tips for choosing the perfect business name, let's go over some of the common business naming mistakes.
Hard To Pronounce, Hear, or Spell
You don't want to come up with a name that is hard to pronounce or spell. This could turn customers away from the very beginning before you're even able to sell your products to them.
Too Descriptive or Too Detailed
A name that is too descriptive or detailed could be offputting and make it harder to pronounce or spell. You also don't want a name that's too long either, which could make it difficult to use on social media platforms. So, go for less when it comes to your business name.
Too Generic or Too Common
Another mistake is choosing a name that isn't unique enough and is already commonly used. This could cause your name to get lost in the noise, and keep you from being found by interested customers.
Not Researching Competitor Names
If you don't research competitor names, you could end up choosing a name that is too similar to their brand, doesn't have an available domain, or doesn't fit the industry. Doing your research gives you valuable information from real-life examples, which you can't find anywhere else.
Failing to Test The Name in a Trademark Search
You should also check to see if your name is protected by a trademark. If you don't do this, you could make costly decisions that you'll have to undo later on with a new name, or you could face legal issues by the company that has the trademark.
Limits Your Business's Growth
You can't choose a name that will limit the future potential of your brand, either. This means that you shouldn't be too specific with your name in a way that will keep you from exploring new products or markets in the future.
Unusual Spelling of Common Words
Unusual spelling can be a good tactic, but it could also be confusing to customers if you use a misspelling of a common word or phrase. In this case, you could make it difficult for interested buyers to find your brand online or retrieve information about your company.
Too Long or Too Difficult to Understand
Another mistake you could make when choosing a trading name is making a business name that is too long or difficult to pronounce. You could end up confusing a potential customer if they can't say or understand your business name. Instead, go for a store name that is shorter and easier to understand.
Domain Names Are Not Available
If you can't get the domain name you need to match the name you've chosen for your brand, you could hit a major roadblock.
Not Get Feedback
You should always strive to get feedback from customers and peers before going forward with your brand name. They could see something that you don't and save you from making a costly mistake.
Checklist for Best Business Name
Here is a final checklist you can go through in order to choose the business name that is right for your company.
Introducing Your Business
Remember that the business name you've chosen for a new company is how you will be introducing the entity to the world. Make sure it's strong, memorable, and catchy so that your potential customers will remember who you are.
Easily Memorized, Pronounced, and Spelled
Along with the above point, you want to make sure your name is easy to memorize, pronounce, and spell. If not, you could turn away potential buyers who will find it easier to do business with a competitor in your space with a better business name.
Distinguishing
You'll also need to choose a name that fits your business idea and makes it stand out from others on the market.
Different From Competitors' names
You don't want to have the same name as a competitor, which could lose your business to more established entities in the business. So, make sure you generate names that are unique in your industry and will set you apart from the rest, though is still an available domain name.
Expandable – Flexible for New Products and Locations
You also don't want to choose a business name that is too rigid and will limit you from expanding in the future. So if you choose a business name based on the current business structure of your company, you may not have the flexibility to expand to new products or locations in the future.
Appropriate Length
Again, business name ideas that are shorter in length tend to perform better. This contributes to how easy it is to spell and remember, and whether it makes sense or not, which is very important in today's highly competitive markets.
Respectful But Not Too Serious
Choose a good business name that matches your business idea well and showcases what you do properly, but it also doesn't have to be too serious. Understand what your audience is looking for, and choose a name accordingly.
Avoiding Bad Influence on Your Business
Lastly, always be cognizant of the multiple meanings that a word in your business name could have. The last thing you want is to choose offensive phrasing or terms unknowingly, which could mean disaster for your business from the very beginning.
After Choosing a Business Name, What's Next?
After your brainstorming session and coming away with a solid business name, you need to register your business name in order to make things official. You can do this online with your local state's office, so make sure you do this so you can finish the rest of the documentation you'll need to do when starting a business.
The Top Name Generator Services
Now that you know how to come up with business name ideas, let's go over the best business name generator options that are out there.
Domain Name Generator Services
The top two business name generator services that we'll look at are Namecheap and Hostinger.
Namecheap
Hostinger
Award
Best Overall
Best for Creativity
Include Features
Integration with WooCommerce, WordPress, Wix, Shopify, etc.
Collaboration tools
Customization features
Privacy
Domain reseller platform
Integration with Gmail, Flock, etc.
Collaboration tools
Customization
Hosting services
Cost
Free
$1.99/month
Detail
Read Reviews
Read Reviews
Link
Namecheap
Namecheap is a business name generator that is one of the most commonly used in the industry. This business name generator allows you advanced capabilities for searching and filtering results. Many also view it as the most affordable, as the generator cost is quite low for
Namecheap. Once you've chosen a domain from the site, you can even register it from the platform directly.
Hostinger
Another business name generator you may consider using is Hostinger. It is quick and simple to use and will let you generate names for your brand that are unique and memorable. You can begin by entering a keyword related to your business, and check out the outputs to find the right name for your brand. It will show you all the different combinations using your keyword, available TLDs, and the cost of the domain as well.
Final Thoughts
Whether you want to use a business name generator to streamline the process or come up with a name on your own using the above tips and strategies, choosing a business name is one of the most important steps you'll take as you start your company. Above all, generate names that make sense and are different from other sites in order to be memorable with your audience and stay competitive in the marketplace.
Frequently Asked Questions (FAQs)
Do you need to register your business name?
Yes, selecting the business name alone is not all. You'll need to register it to make your business official and have legal status.
How does a name generator site work?
Most of the time, you will enter in a keyword or phrase related to your brand, and the site will populate hundreds of unique names and word combinations to help you brainstorm a name.