First Republic Bank Loses Almost $72 Billion in Deposits, Stock Price Halves
All products recommended by Bizreport are selected by our editorial team, independent of our parent company. Some of our stories include affiliate links. If you buy something through one of these links, we may earn an affiliate commission.
First Republic Bank's stock plummeted by almost 50% on Tuesday after the bank reported a significant loss of deposits in the first quarter of the year. The San Francisco-based bank announced a loss of nearly $72 billion in deposits between December 31 and March 31, despite receiving a $30 billion infusion from 11 rival lenders on March 16 in a bid to prevent a broader banking crisis.
While most banks have reported only modest outflows in recent weeks, the drop in deposits at First Republic highlights broader industry concerns that have yet to be fully resolved. Moody's downgraded 11 regional banks last week, including U.S. Bank and Western Alliance, citing concerns about the stability of deposits and their operational nature.
The exodus of deposits from regional and midsize banks has largely stopped, according to Mark Hamrick, a senior economic analyst at Bankrate. Nevertheless, some industry experts say that signs of relative stability in recent bank earnings belie other concerns, particularly for commercial lending.
On First Republic's earnings call on Monday, CEO Mike Roffler sought to reassure investors that the worst was over, stating that the bank's deposits had stabilized since the week of March 27. However, deposit outflows at other banks may also reflect consumers shopping for higher interest rates. This trend is forcing banks to pay more to hold onto their customers' deposits and attract new ones.
The Federal Reserve's anticipated interest rate increases, to be announced on May 3, continue to cause concern on Wall Street. A working paper from analysts affiliated with the National Bureau of Economic Research warned that smaller banks with uninsured deposits are more vulnerable to insolvency in a high-interest rate environment.
Economists are monitoring the lending environment for small and midsize businesses for signs of a potential credit crunch. Small and regional banks are responsible for at least 70% of all commercial and industrial loans made to small firms, according to Joe Brusuelas, the chief economist at consulting firm RSM. As the access to credit among Main Street businesses contracts, he worries that the flurry of layoffs announced by name-brand companies could spread further into other industries.
Overall, while most banks have seen only modest deposit outflows in recent weeks, concerns about the stability of deposits and commercial lending persist. The Federal Reserve's anticipated interest rate increases have only added to the jitters on Wall Street, with smaller banks with uninsured deposits seen as particularly vulnerable to insolvency. Economists are closely monitoring the lending environment for small and midsize businesses for signs of a potential credit crunch..

Considering that most of these news companies rely heavily on digital giants like Google and Facebook for advertisement revenues, the recent IT slowdown in the U.S. has impacted them as well. Google's digital ad revenue experienced an unparalleled decline in the January-March company results published recently.
ABOUT THE AUTHOR
Chinonso Dioha is a highly-skilled professional SEO article writer, data analyst, and web content specialist with over 3+ years of experience writing viral articles, SEO articles, blog posts, marketing articles, health articles, and financial articles. He possesses thorough expertise in high-quality research, meeting and surpassing editorial objectives, and delivering high-quality service. Specialities include metaverse, e-commerce, technology, business, call-to-action, buying guides, how-to – articles, product reviews, sales and lots more.
ABOUT THE REVIEWER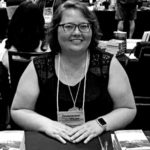 Kristina Knight is a freelance writer with more than 15 years of experience writing on varied topics. Kristina's focus for the past 10 years has been the small business, online marketing, and banking sectors, however, she keeps things interesting by writing about her experiences as an adoptive mom, parenting, and education issues. Kristina's work has appeared with BizReport.com, NBC News, Soaps.com, DisasterNewsNetwork, and many more publications.
+ 3 sources
Bizreport Advisor adheres to strict editorial integrity standards avoids using tertiary references. We have strict sourcing guidelines and rely on peer-reviewed studies, academic research. To ensure the accuracy of articles in Bizreport, you can read more about the editorial process here.
Jesse Pound. First Republic bank says deposits tumbled 40% to $104.5 billion in the first quarter. NBC News. Published April 25, 2023. Accessed April 26, 2023. https://www.nbcnews.com/business/corporations/first-republic-bank-says-deposits-tumbled-40-1045-billion-first-quarte-rcna81251

Jesse Pound. Wall Street rides to the rescue as 11 banks pledge $30 billion to First Republic Bank. NBC News. Published March 17, 2023. Accessed April 26, 2023. https://www.nbcnews.com/business/business-news/11-banks-pledge-30-billion-rescue-first-republic-bank-rcna75355

Rob Wile. "Walk and chew gum"? Fed faces dual tasks of fighting inflation and easing bank jitters. NBC News. Published March 22, 2023. Accessed April 26, 2023. https://www.nbcnews.com/business/economy/inflation-federal-reserve-bank-collapse-fears-rcna75736