How To Build Stronger Customer Experience
First, ensure shoppers have multiple touchpoints
"Consumers are interacting with retailers on multiple touchpoints – via mobile apps, web browsers, social media apps, and in-person. Each of these brand experiences can't exist in a vacuum. Retailers must invest in omnichannel to keep the experience consistent and seamless no matter where shoppers are. The future of retail depends on a closer merging between physical and digital experience," said Elissa Quinby, Senior Director of Retail Insights, Quantum Metric.
Second, ensure visibility across owned entities
"Take, for example, a shopper who uses a retailer's app to place a curbside pick-up order at a local store. The retailer should be able to immediately recognize and alert them that one of the items previously in their cart is now back in-stock at that particular store – prompting them to add it to their pick-up order, or welcoming them in the storefront to pick it up. They can even offer tailored coupons to really entice the customer," said Quinby.
Third, offer tech-forward options in stores
"Another innovative way retailers are using digital to enhance the physical shopping experience is by offering unique tech-forward experiences in storefronts. Just this week, Walmart announced a new virtual try-on feature that will be available in its stores and through its app. Retailers can launch projects like this to revive their brick-and-mortar experience with digital components, while also making them widely available to their customers that prefer to engage online only," said Quinby.
ABOUT THE AUTHOR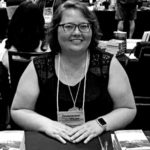 Kristina Knight is a freelance writer with more than 15 years of experience writing on varied topics. Kristina's focus for the past 10 years has been the small business, online marketing, and banking sectors, however, she keeps things interesting by writing about her experiences as an adoptive mom, parenting, and education issues. Kristina's work has appeared with BizReport.com, NBC News, Soaps.com, DisasterNewsNetwork, and many more publications.