Study finds fundamental changes in how social media is used
But, not all of that content is appreciated. Researchers found that, for social media
consumers in the UK, the amount of current events content is seen a 'political,
resourceful, inspirational' but for consumers in North America, the increase in current
events content is seen as 'political, overwhelming, stressful'. This comes as 43% of
content creators in North American and 52% in the UK increase their sharing of current
events content.
The sharing of current events – content related to the pandemic, to the Black Lives
Matter movement, and other social areas – is only one of the changes many are seeing
in the social space as the COVID-19 pandemic continues to rage across the globe.
Researchers also found that the most-wanted types of content are influencer, shopping,
and funny content. Here's how the breakdowns go:
• 48% of UK and 35% of North American consumers want social justice content
• 41% of UK and 36% of NA consumers want influencer content
• 38% of UK and 34% of NA consumers want shopping content
Along with that shopping content, consumers are looking for specific information about
products. Researchers found that about one-third (39%) of people are looking for
brands to tell them about new services being offered in the light of the pandemic and
29% are looking for brands' policies toward their employees during the pandemic.
These findings, especially, should serve as a reminder to brands that the transparency
of their messaging and content should continue to be a high priority, not only with
shoppers but with employees.
"Social media is a place where you can build long lasting connections with your
consumers – just be willing to meet them where they are," writes Sanika Gothivarekar,
Analyst, Global Consumer Insights, Bazaarvoice, via the Bazaarvoice blog.
And, while most respondents say they've significantly increased the time they spend on
social platforms, the bulk of them (69% UK, 67% NA) say the platform they're hitting
most is Instagram. About one-third are choosing TikTok, YouTube, and Instagram 'for
enjoyment', and while some platforms are used more than others, no single platform is
being avoided by social media users.
ABOUT THE AUTHOR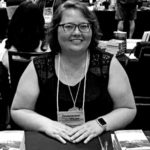 Kristina Knight is a freelance writer based in Ohio, United States. She began her career in radio and television broadcasting, focusing her energies on health and business reporting. After six years in the industry, Kristina branched out on her own. Since 2001, her articles have appeared in Family Delegate, Credit Union Business, FaithandValues.com and with Threshold Media.