The 5 Most Effective Law Firm Online Marketing Techniques
Becoming successful as a lawyer implies more than defending your clients well. You might be the best animal attack lawyer in town or the best divorce lawyer and people still not know about you, because you did not pay attention to the marketing techniques that could make your services desirable and helpful for your potential clients.
In order to connect with prospective clients, especially in an age where online marketing offers your firm so many opportunities to reach the target public, there are many business development activities you can start doing as a lawyer that could lead to you solving more files.
Here are the 5 most effective law firm online marketing techniques you should know about if you want clients to find out about your services and trust you with their cases.
1. Choose the right infrastructure for your website

You want a website that presents your services in an attractive manner that is interesting and at the same time does not get in the way. Besides, you need your page to be formal and trustworthy for your clients. The balance between these can be difficult to obtain, but not impossible. With a simple template, a well-organized system that lets potential clients discover your work and find out more about your results and a personal touch, you can attract many visitors and, consequently, have many people willing to let you handle their cases.
It might be the most important first impression you can make online for your law firm and it is indeed one of the basic steps to build a successful marketing strategy.
2. Display only high quality content

Because people who visit your website are in need of a trustworthy person who will get them out of trouble, you should keep them informed by publishing only high quality content, designed to make them aware of some situations, present some laws they might not even be aware of and display your work and results in an attractive, yet formal manner.
People will for sure appreciate you keeping them informed on some issues, seeing you in action or finding out important contacts from your website.
3. Use results and testimonials to make your firm trustworthy

Since your services are new to them, you should give your visitors the chance to see that your progress is worth being noticed and your cases have almost every time memorable happy endings. Nobody will appreciate a show-off, but if you present your legal activity in an elegant and simple way, you will get noticed and many people will contact you.
By showing people that you care about your clients and that they leave your office with a peace of mind that their problem will be solved easily, you for sure will gain their trust. You do not have to display confidential information, but you can still enjoy a win and make former clients recommend your services.
4. Attach a schema to your website

Living in the age where SEO can help your law firm flourish online, you might want to adopt a set of schema that will help people find you faster and easily.
The search engines will identify content related to the legal profession you are doing and send people to your website. By adding a few elements of interest for potential clients, such as emails, reviews, attorney names, important phone numbers, you will not only be a trustworthy source of information, but also make people find out about your services in times when they did not even think that a lawyer could help them.
5. Explore the social media marketing techniques

Even if a website is compulsory if you want your law firm to flourish, the power of social media cannot be downplayed. You might not be a fan of Twitter or Facebook, but your presence there as a lawyer could give you great marketing opportunities, since you might find there your target audience. Receiving comments, giving advice and getting involved in activities that will show people you care about them can be the key to success.
With these strategies incorporated into your law firm online marketing techniques, you have the chance to promote your legal activity and services efficiently and, consequently, acquire new potential clients and make them trust you. Success is sure to come if you make time for your law firm online marketing techniques.
ABOUT THE AUTHOR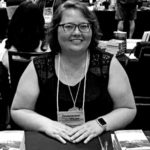 Kristina Knight is a freelance writer based in Ohio, United States. She began her career in radio and television broadcasting, focusing her energies on health and business reporting. After six years in the industry, Kristina branched out on her own. Since 2001, her articles have appeared in Family Delegate, Credit Union Business, FaithandValues.com and with Threshold Media.