Survey: Truth more important than marketing
According to the new 2018 B2B Buying Disconnect report out from TrustRadius about half of those B2B buyers surveyed are under the age of thirty-five and that those buyers, of which many are Millennials, are more likely to want a hands-on buying experience rather that using vendors to make their purchases. In addition, all buyers are more likely to believe in peer reviews that anonymous reviews on reviewer sites.
"The way we can now communicate via the internet, sharing our thoughts and experiences without a filter, has a big impact on the buying process," said survey participant Scott Rosen, Vice President of Technology at Guardian Credit Union. His team recently made a six-figure investment in IT infrastructure, and he ranked user reviews and references as the most influential and trustworthy resources. Rosen also noted that the vendor was very forthcoming about the product's limitations, and proactively provided his team with unbiased customer evidence during the sales cycle. "I have no problem with account reps, and our sales person was top notch, but they drink the kool-aid — they are always going to sell the product and talk it up."
Other interesting findings from the TrustRadius report including:
⁃ 50% say vendor-provided customer reviews/case studies were important to their purchase decision
⁃ Most B2B buyers are willing to share there experiences and feedback with others but because vendors do not ask for these reviews only about 22% have written a review
⁃ 56% report a committee of 2-5 employees make purchasing decisions
"Mainstream sites are plagued with fake and shallow reviews, which might be fine if you're looking for a restaurant, but is unacceptable if you're making a $50,000 purchase," said Vinay Bhagat, CEO and founder of TrustRadius. "The results of this study highlight why we are defining the next generation of reviews with a focus on authenticity and quality — every reviewer is verified, every review is vetted, the average review is over 400 words, and we don't sell ads or leads. Buyers need a trusted partner in the buying process, especially when vendors are not stepping up. Perhaps one day consumer-facing review sites will follow in our footsteps."
ABOUT THE AUTHOR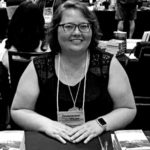 Kristina Knight is a freelance writer based in Ohio, United States. She began her career in radio and television broadcasting, focusing her energies on health and business reporting. After six years in the industry, Kristina branched out on her own. Since 2001, her articles have appeared in Family Delegate, Credit Union Business, FaithandValues.com and with Threshold Media.