Expert: How digital has changed post-GDPR
Kristina: One month in, has anything changed for you since gdpr went live?
Mike Tarpey, COO, Underdog Media: No, not really. It was a race to the finish line and it did have a Y2K feel to it at times (for those that remember the early 2000s), but we listened to the market and did the correct work. We did expect to see some attrition from EU partners due to GDPR but that hasn't happened. Honestly, we're happy to have May 25th in the rearview but it never changed our focus to drive value for publishers and DSPs. Â 
Kristina: Are you surprised by anything that has happened in the last month regarding GDPR?
Mike: In the end, the amount of work that went into this compliance was surprising. There were some bumps along the way and a few last-minute prebid updates but nothing that caught us off guard. Â As we got closer to the deadline, it was more of an eye opener than we initially anticipated but we rolled up our sleeves, talked to our partners and did what we needed to do to get it done.
Kristina: Do you expect more changes to come to the industry once regulators sift through complaints and starting making enforcements?
Mike: We shall see, our crystal ball is not giving that up yet. Â Perhaps for those businesses that deal with consumers' very sensitive personal information, however, for a business such as ours that only stores IP addresses for a limited time period it's hard to imagine what else we could change.
Kristina: What do you think of the GDPR?
Mike: In principal and concept, I think it's a great thing for the consumer, as it applies to users truly personal data, data breaches and protecting users from the bad actors.
ABOUT THE AUTHOR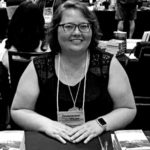 Kristina Knight is a freelance writer based in Ohio, United States. She began her career in radio and television broadcasting, focusing her energies on health and business reporting. After six years in the industry, Kristina branched out on her own. Since 2001, her articles have appeared in Family Delegate, Credit Union Business, FaithandValues.com and with Threshold Media.