More cybercrime, more consumers wanting protection
"Cryptocurrency marketplaces need a more accurate way to verify the identity of new customers who open an account in order to prevent the infiltration of criminals," said Vanita Pandey, Vice President of Product Marketin, ThreatMetrix. "Using intelligence from the ThreatMetrix Digital Identity Network, these marketplaces can better differentiate between good customers and fraudsters the moment they arrive, and thus see an immediate reduction in fraudulent activity on their platforms."
A growing number of these attacks are coming from Russia, according to the research, and the threats include both location-spoofing and bot attacks. Many of these attacks begin with the fraudster creating fake new accounts, and then using either stolen or synthesized identities to carry out the fraud. As for ecommerce, ThreatMetrix's report finds that the overall ecommerce attack rate increase 50% YoY during Q4 of 2017.
Meanwhile, new data out from SAP Hybris indicates that while consumers are willing to give up some personal information, they want something from brands in return. Most (72%) want the companies with whom they share information to protect their interests, and about two-thirds (66%) want brands to be transparent in how they use data. About half want businesses to protect their personal information in the event of a criminal investigation.
"The need for a strong customer relationship has been recognized in multiple industries, especially in retail, where consumers have an increasing number of options to choose from," said Matthias Goehler, senior vice president and head of SAP Hybris solutions at SAP. "To meet shopper needs, leading retailers are embracing business models that deliver a customer-centric culture in every department, not just sales and service. A single view of a customer's profile, fueled with real-time insights, equips all employees to engage contextually and meaningfully with customers, so they feel the appreciation, no matter whom they talk to."
Other interesting findings from the Global 2017 SAP Hybris Consumer Insights Report include:
• 71% of U.S. respondents said they were willing to part with certain information
• 79% said they would leave a retailer if personal data is used without their knowledge
• 87% said they expect service responses within 24 hours
Just over half (58%) of respondents said they turn to online shopping for convenience.
ABOUT THE AUTHOR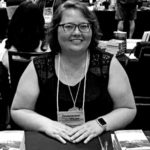 Kristina Knight is a freelance writer with more than 15 years of experience writing on varied topics. Kristina's focus for the past 10 years has been the small business, online marketing, and banking sectors, however, she keeps things interesting by writing about her experiences as an adoptive mom, parenting, and education issues. Kristina's work has appeared with BizReport.com, NBC News, Soaps.com, DisasterNewsNetwork, and many more publications.