Checkouts, payments key to retailer growth
The perceived health of retail is probably driving increased investments in checkouts and payments. According to researchers nearly all (98%) of retailer surveyed say they'll be investing in checkout experiences this year, with most focusing on financing/payments and credit applications.
"Most retailers are optimistic about both the industry and their own businesses, and actively investing in areas such as checkout and financing to drive loyalty and customer satisfaction," said Vyze VP, Customer Success Jai Holtz. "As online and mobile shopping continue to boom, we expect to see a rapid rise in the number of merchants creating or expanding their credit loyalty programs to drive conversion, increase ticket sizes, and improve customer satisfaction scores."
In addition to checkout enhancements, retailers tell researchers they'll invest in mobile app technology to improve mobile checkouts, and that they'll put fewer dollars toward augmented and virtual reality.
Meanwhile, on the loyalty front, most merchants are now offering a loyalty program, and most continue offering monetary incentives to their loyalty club members. Just over one-third say they also believe financing options/customer credit approvals helps to build loyalty, and that shortening checkout ties will improve customer loyalty.
ABOUT THE AUTHOR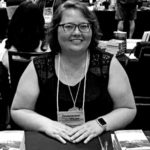 Kristina Knight is a freelance writer based in Ohio, United States. She began her career in radio and television broadcasting, focusing her energies on health and business reporting. After six years in the industry, Kristina branched out on her own. Since 2001, her articles have appeared in Family Delegate, Credit Union Business, FaithandValues.com and with Threshold Media.