How marketers can use email to improve relevance, engagement
Use Chatbots & a Personalized Email Experience
"With chatbots making their way into email and messaging apps in 2017, 2018 will be the year in which chatbots effectively provide personalized experiences to customers, if done correctly. Marketers will leverage data from email marketing, display retargeting, social media ads and chatbots to create a cohesive and unified experience for customers," said Len Shneyder, VP of Industry Relations SendGrid.
Use AI & ML
"Artificial Intelligence (AI) will increasingly be leveraged for email marketing campaigns in 2018," said Shneyder. "As companies continue to invest in AI and machine learning (ML), they'll be able to better understand how customers are interacting with their brand, and marketers will be able to create "personas" based on those interactions – enabling them to further hyper-personalize messages for users at global scale."
Use AI To Improve Omnichannel
"In order to get to true omnichannel marketing, organizations will incorporate AI into their omnichannel strategies to learn how a customer is interacting with different channels within a brand. This will enable marketers to retarget and inform the messages shared through specific channels, based on user activity," said Shneyder.
Use Interactivity & Visual Focused Email
"Interactivity and Visual Focused Email will be big trends in 2018. Marketers are increasing the ways they can engage with customers directly through their inboxes, from bringing shopping carts directly into email, to engaging customers through creative visuals – such as GIFs and HTML 5. In 2018 and beyond, we can expect to see a mix of more visual, colorful and interactive emails from big consumer brands," said Shneyder.
Engage Millennials & Gen Z
"Despite the shift of millennials and Gen Z towards social media as a favorite communications platform, email will still be a top communications platform for these generations for years to come. Interactivity, personalization and more social experiences (e.g. Live Twitter feeds and exclusive Snapchat filters) will resonate with these audiences and will be a major part of email marketing geared towards the younger generations," said Shneyder.
ABOUT THE AUTHOR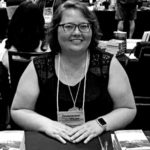 Kristina Knight is a freelance writer with more than 15 years of experience writing on varied topics. Kristina's focus for the past 10 years has been the small business, online marketing, and banking sectors, however, she keeps things interesting by writing about her experiences as an adoptive mom, parenting, and education issues. Kristina's work has appeared with BizReport.com, NBC News, Soaps.com, DisasterNewsNetwork, and many more publications.