Consumer expenditure via voice assistants to rise significantly
Consulting firm Capgemini recently released research suggesting consumers increasingly prefer to interact with companies via voice assistants. Of the 5,000 people surveyed across the U.S., U.K., France, and Germany, a quarter (24%) said they would rather use a voice assistant than a company's website and 31% prefer using voice assistants to visiting a physical store or bank branch.
The result is that consumer expenditure through voice assistants is set to rise significantly. Currently, users are spending around 3% of their total consumer expenditure via a voice assistant but this, predicts Capgemini, will rise to 18% over the next three years taking away from what is currently spent in-store (45%) and via websites (37%).
A new report from Accenture, 'Time to Navigate the Super Myway: Giving Consumers Exactly What They're Looking For', found that voice assistants are already eating into time spent on smartphones.
'
Accenture's survey of 21,000 consumers across 19 countries found that in Australia, for example, seven out of 10 digital voice assistant owners use their smartphone for fewer applications in the home since purchasing the device. Most (75%) said they use their smartphone less for entertainment, 71% use them less for making online purchases and 55% less for general information searches.
"Digital voice assistant devices are challenging smartphones as the central hub for all activities in the home," said David Sovie, global managing director of Accenture's High Tech business.
"These low-cost devices deliver valuable and practical benefits and are relatively easy to use, and their rapidly growing popularity is one of the most striking trends in the high-tech industry."
Just as importantly for continued adoption of voice assistants is Capgemini's finding that consumer satisfaction among users is high. Seventy-one percent of users claimed to be very satisfied with the experience.
"What makes voice assistants so exciting is that they are woven into the fabric of our lives, offering a simplicity and richness of interaction that consumers have never experienced before," says Mark Taylor, Chief Experience Officer, Digital Customer Experience practice, at Capgemini. "Brands that are able to capitalize on the huge consumer appetite around voice assistants will not only build closer relationships with their customers, but create significant growth opportunities for themselves."
According to eMarketer, 35.6 million people in the U.S. will have used a voice-activated assistant device at least once a month in 2017, up 128.9% on the previous year. Just over 70% use Amazon's Echo speaker while Google Home claims 23.8% of the market.
ABOUT THE AUTHOR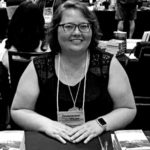 Kristina Knight is a freelance writer based in Ohio, United States. She began her career in radio and television broadcasting, focusing her energies on health and business reporting. After six years in the industry, Kristina branched out on her own. Since 2001, her articles have appeared in Family Delegate, Credit Union Business, FaithandValues.com and with Threshold Media.