Advertising 2018: Don't ring out the old
Research conducted by business-to-business ratings and reviews firm Clutch has found that consumers are more likely to trust traditional advertising platforms such as television and print. The survey of 1,030 U.S. consumers to determine their trust in advertising found that, even among Millennials – the so-called digital generation – traditional media such as television and print is trusted by more than online and social (64% and 51% respectively).
In fact, younger generations were found to be the most trusting of advertising. While over half of Millennials (55%) and Generation Xers (53%) trust advertising, that drops to just 44% among Baby Boomers. According to Clutch's Kristen Herhold, "the older generations trust advertising less because they have seen dishonest advertising in their lifetimes".
Across all age groups, television was the most influential advertising medium with 60% of consumers likely to make a purchase after seeing or hearing a TV ad. Print was the second most influential (45%) followed by online (43%) and social media (42%). Clutch's research appears to suggest a correlation between influence and trustworthiness with 61% of consumers citing television as the most trustworthy advertising medium followed by print (58%).
The least trustworthy advertising mediums are also the newer forms. Just 41% of respondents trust online advertisements and 38% trust social media advertisements. Those surveyed said they distrust online and social media advertisements because they are unregulated and easy for companies to create.
ABOUT THE AUTHOR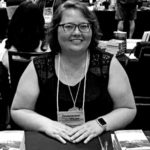 Kristina Knight is a freelance writer with more than 15 years of experience writing on varied topics. Kristina's focus for the past 10 years has been the small business, online marketing, and banking sectors, however, she keeps things interesting by writing about her experiences as an adoptive mom, parenting, and education issues. Kristina's work has appeared with BizReport.com, NBC News, Soaps.com, DisasterNewsNetwork, and many more publications.